Tucson Day 5
**FREE SHIPPING IN THE US FOR ALL ORDERS** **ORDER GIFT CERTIFICATES
HERE
**
**If you live in the EU or UK please contact me before ordering. I will have to create a custom order for you in my Etsy shop due to the onerous VAT requirements that the EU and UK have put in place.**
Day 5 is done and so am I - LOL! The long days and short nights are starting to add up. But I had fun today shopping at the Pueblo and Kino shows. I had some time in the morning to wander around the Pueblo vendor tent and see if I could find any new and interesting vendors. And I did! I just happened upon Vista Gems. It's a good thing they are located on a corner or I probably would have missed them. I actually stopped because I saw they had rose cuts and one of my designer friends asked me to keep an eye out for small rose cut cabs. They didn't have the cabs but as I checked out all that they did have I noticed 2 trays of beautiful, gemstone earring pairs. Don't these look gorgeous?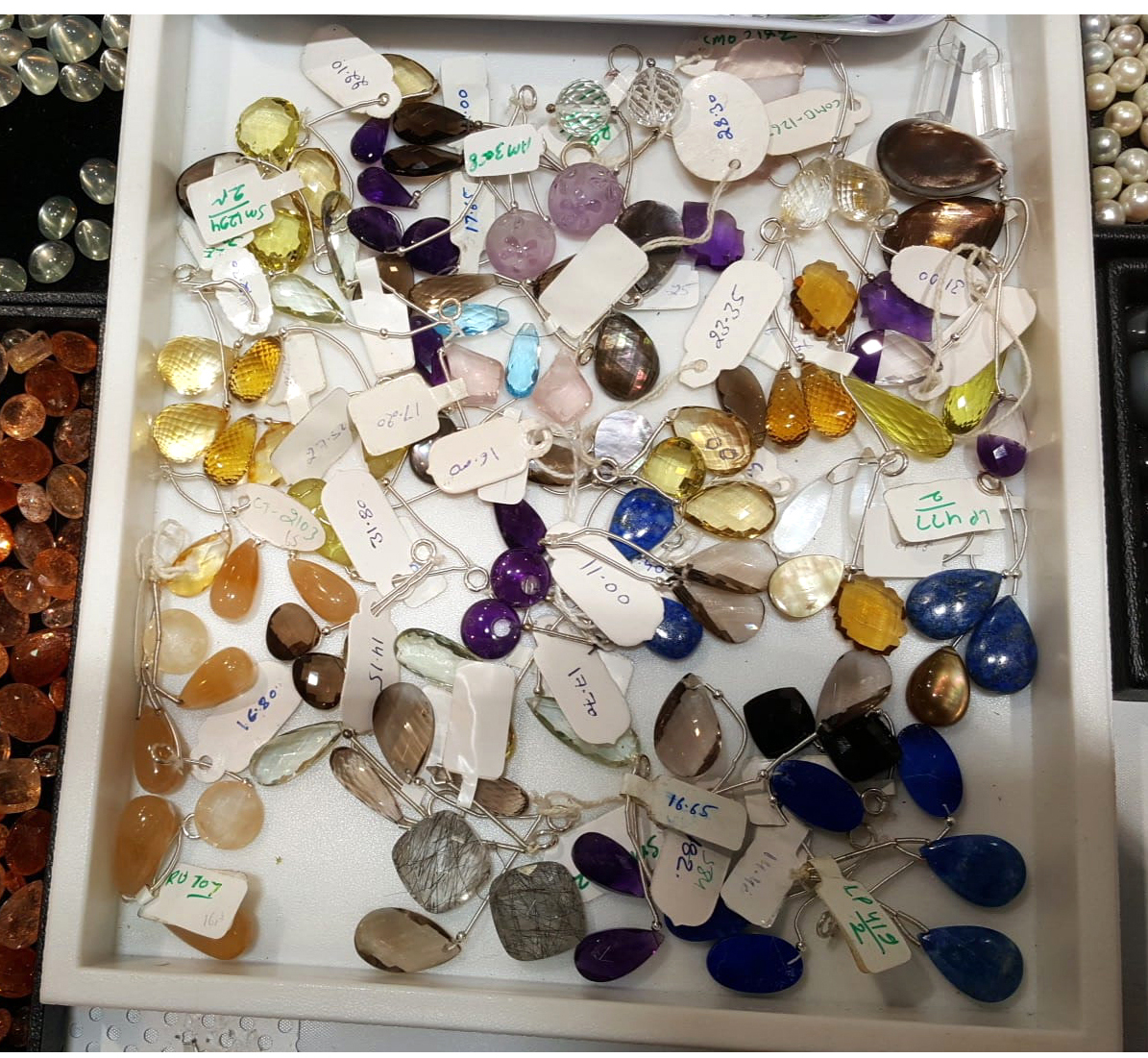 These were the pictures after I picked out my booty - rose quartz, green amethyst (aka prasiolite), amethyst, smoky quartz and citrine. That loooonnnggg diamond cut is gorgeous but this was the only pair in the tray without broken tips. :(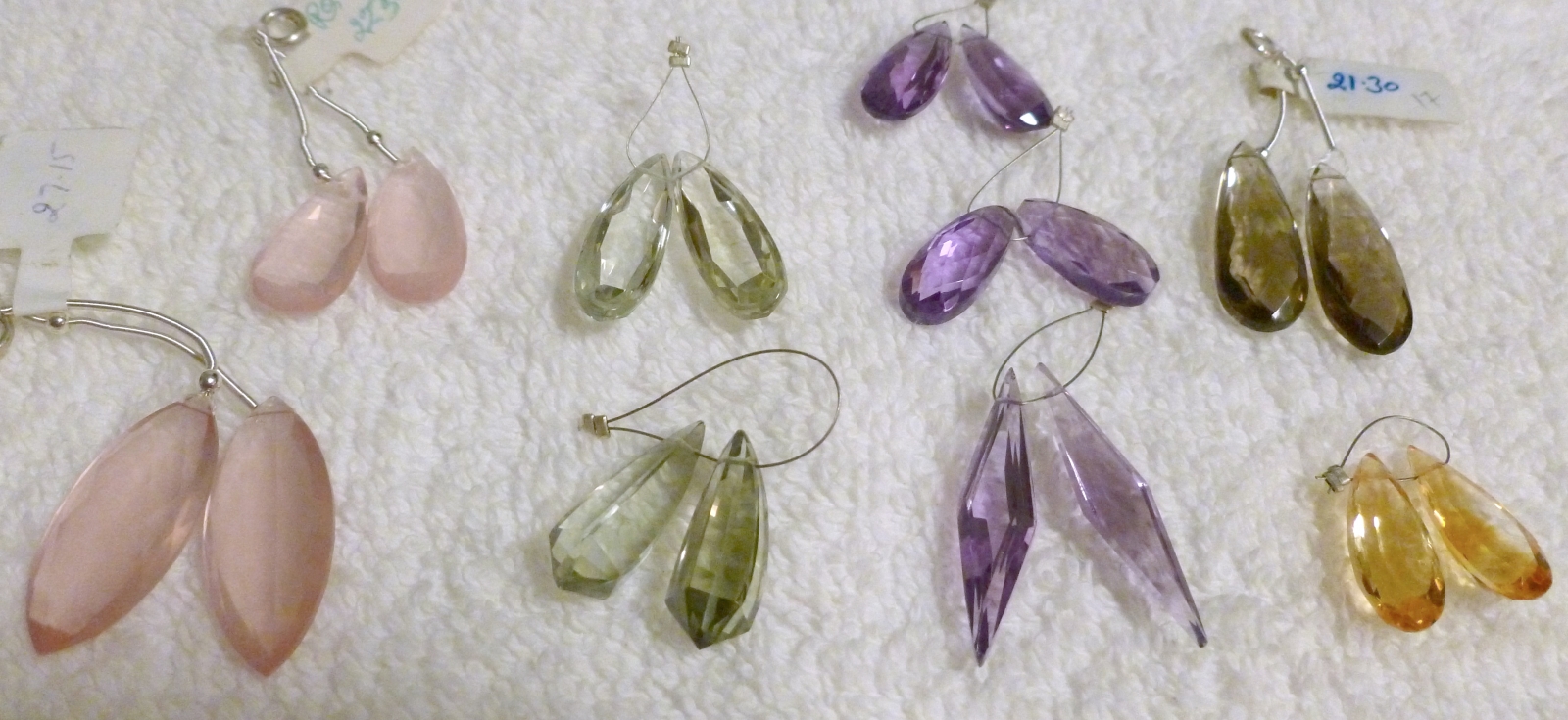 And here is their booth. I tried to get some of the people working the booth into the picture, but no one wanted their picture taken.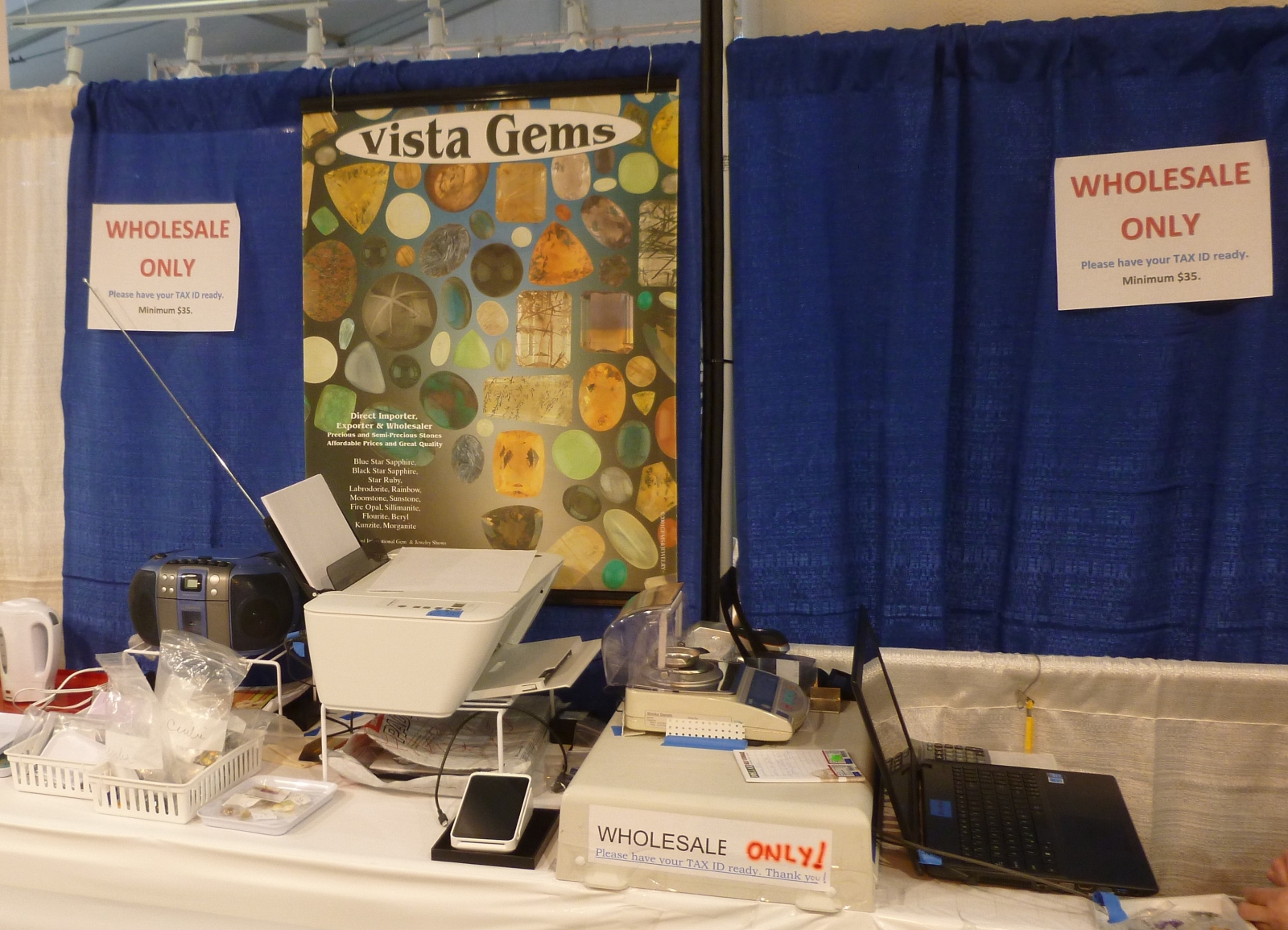 I finished buying these just in time to get online with my designer friend in Australia (you can find her work at Annette PiperJewellery) so she could pick out half drilled earring pairs at Yaushing Gems. I looked through a LOT of packets of gemstone earring pairs and as I'm looking I take pictures, send to her as we "talk" on Facebook and she lets me know if she wants them, or wants a better picture or if they aren't what she wants. It takes a while, but it is kind of fun. I wasn't about to take pictures of all of them individually but here is the beautiful pile! And now they are wrapped up snugly in preparation for our flight out on Thursday.
See those little round beads at the bottom? They had half drilled round balls! I was so excited! I like to make post earrings with gemstone balls, sometimes they stand alone, sometimes I add dangles and sometimes I use beautiful bail settings with them. The fabulous folks at Yaushing were very happy to take a picture with me.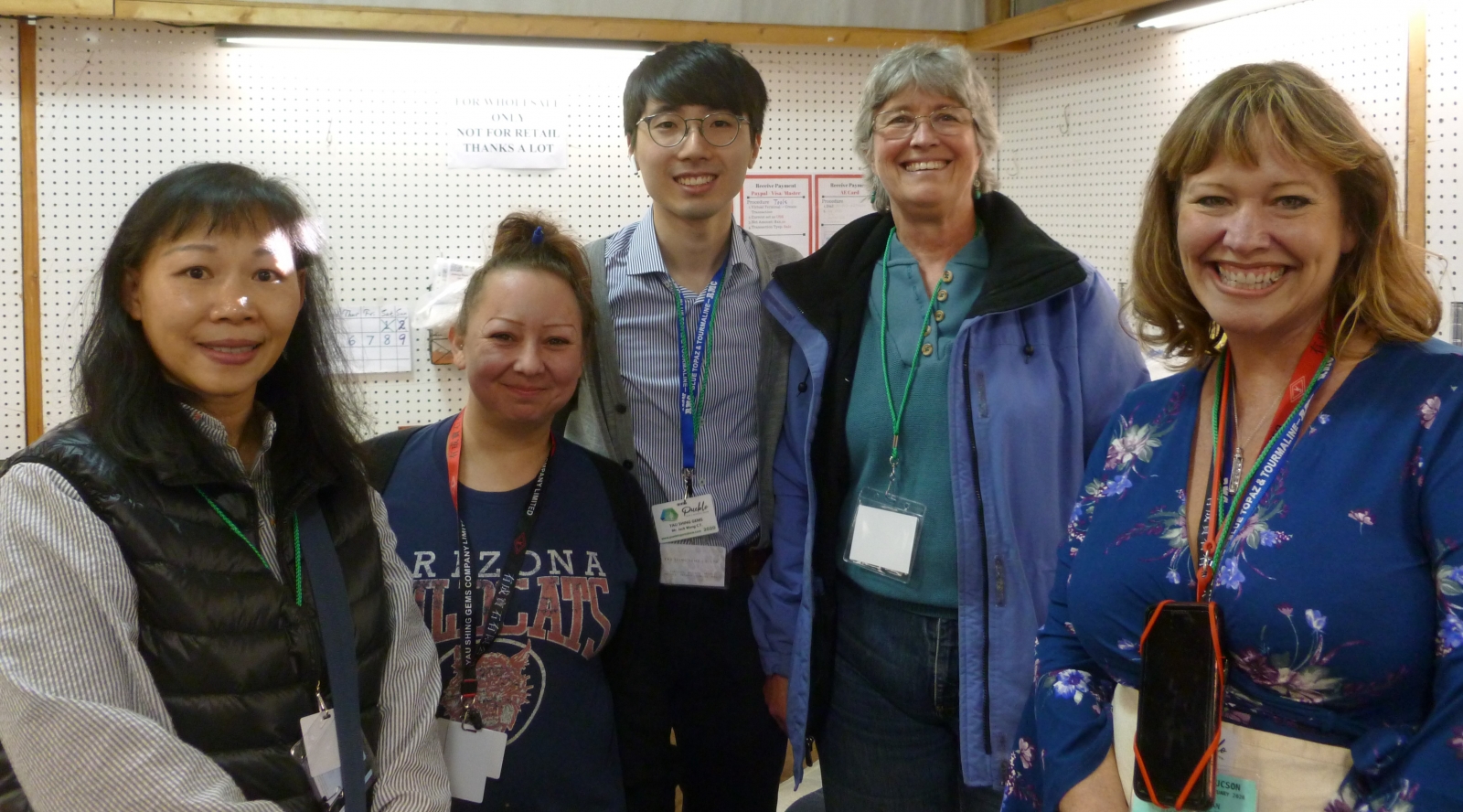 They are always so gracious and so kind to my mom, and to me. And Jack (the only man in the picture :) ) dug through the many bins of gem packets to find those half drilled balls for me. He knew he had them and just had to figure out which stones. We did miss Angela who has been at the Yaushing Pueblo booth for many years now keeping things running smooth. By the time I finished shopping I was quite hungry so my mom and I went to eat while our order got written up. I was quite happy to see that this year Pueblo offers a Beyond Meat hamburger. I've always loved the freshly cooked, on an outdoor grill, hamburgers here. Now that I'm eating mostly vegan (I do have fish once in a while when my body tells me to) it is sometimes tricky to find good food when you're traveling. I have noticed that more and more restaurants all over the world have vegan items on their menus which makes me very happy.
Once we finished lunch we went back into the tent, paid our bill at Yaushing and then went back to visit Vista Gems so Annette could do more remote shopping. She LOVED what she saw in the tray pictures I sent her. Here are the beauties she ended up with. I have to say those pillows (blue topaz and amethyst) are TDF!! Annette REALLY wanted some of the long diamond cut but I got the only pair without a chipped tip.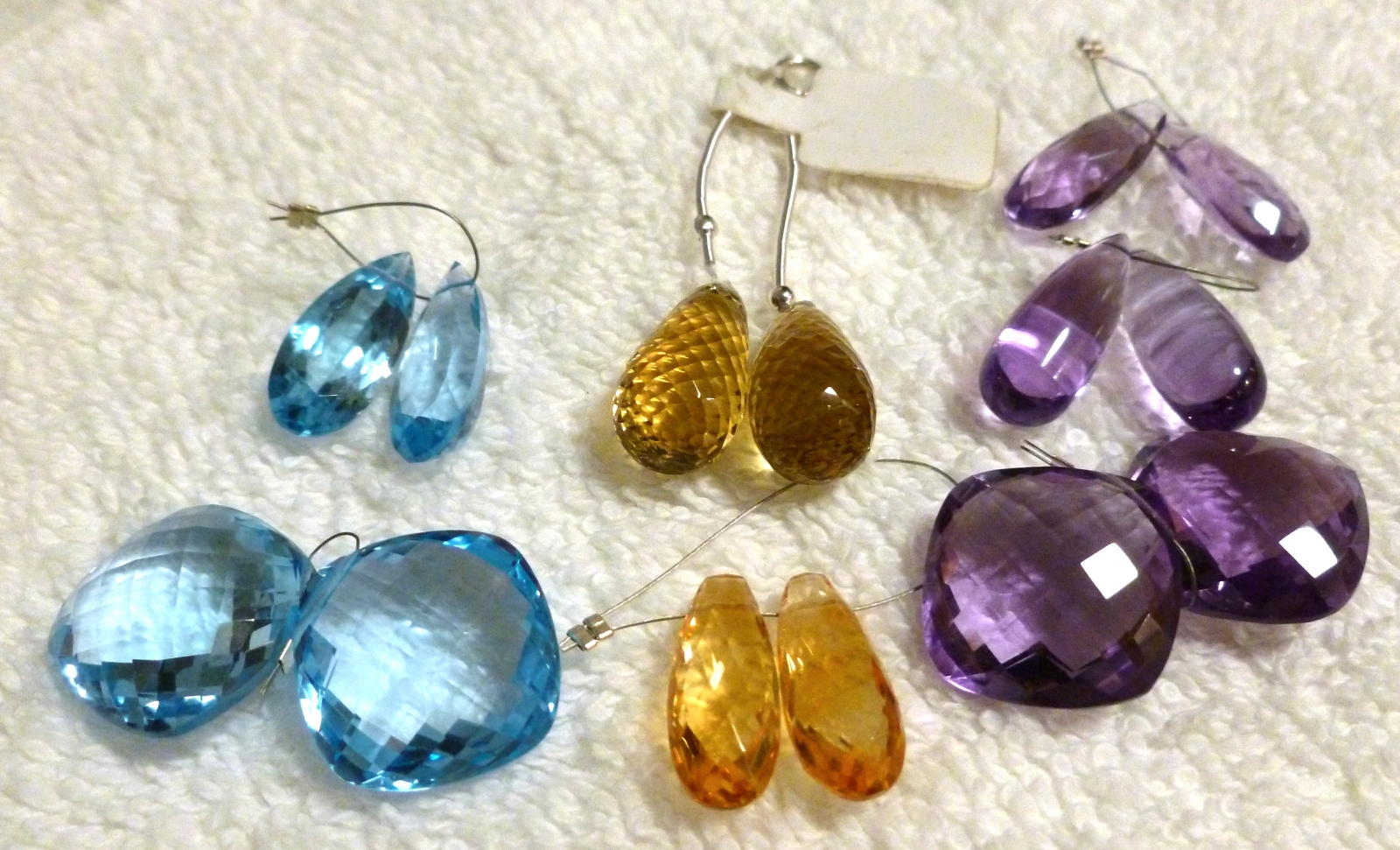 After we finished up this purchase Annette signed off and went to a meeting while we got in the car and drove down to the Kino gem show. I make a point to visit this show since one of the first bead vendors I started buying from, Rock Candy Bead, formerly known as World Bead Mine, formerly known as Royal Quality Gems, is always at the Kino show.
This is a very eclectic and fun show. You'll find rough and gems for sale, metal yard art, paintings on gem slices, crappy, dollar store stuff, handmade baskets, monster and mini gem specimens, tools for gem cutting and jewelry making and who knows what else! At the entrance we saw a bunch of cool wood carvings including this sink from a barrel! What a great way to repurpose!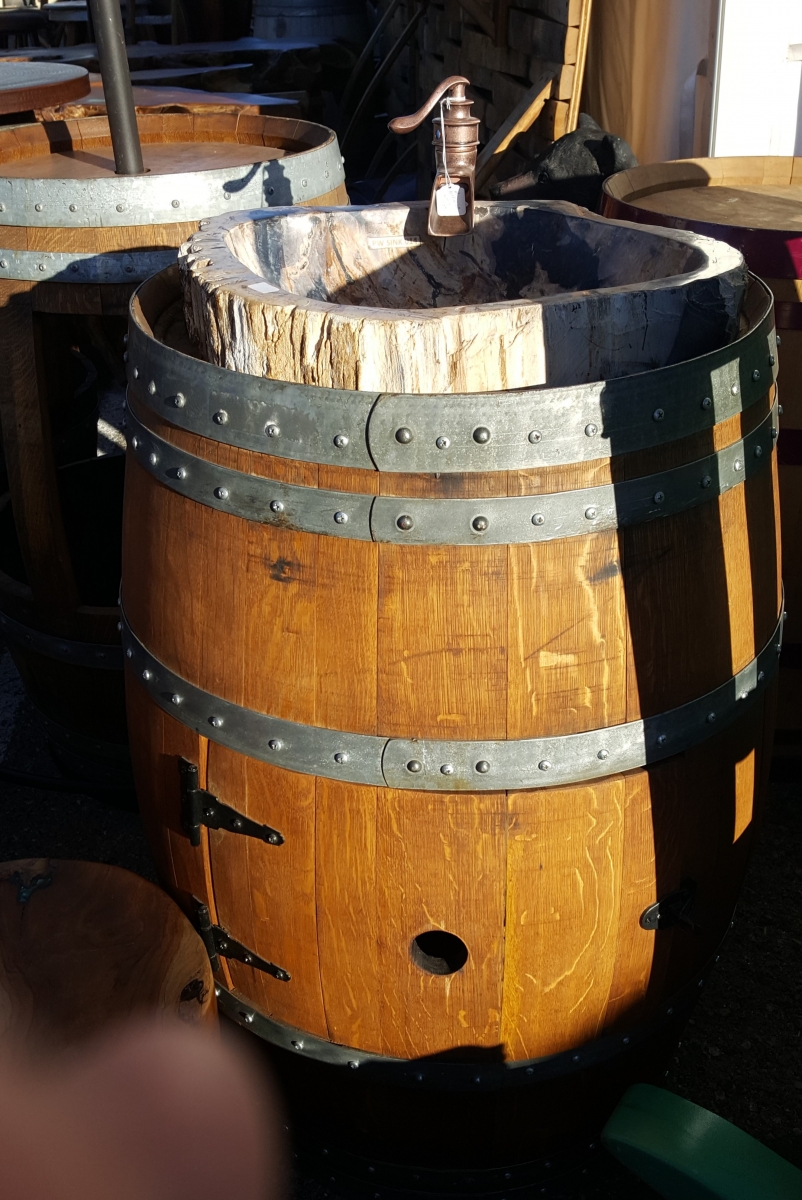 Then when we went inside we saw even more intersting carvings including this dragon and TRex!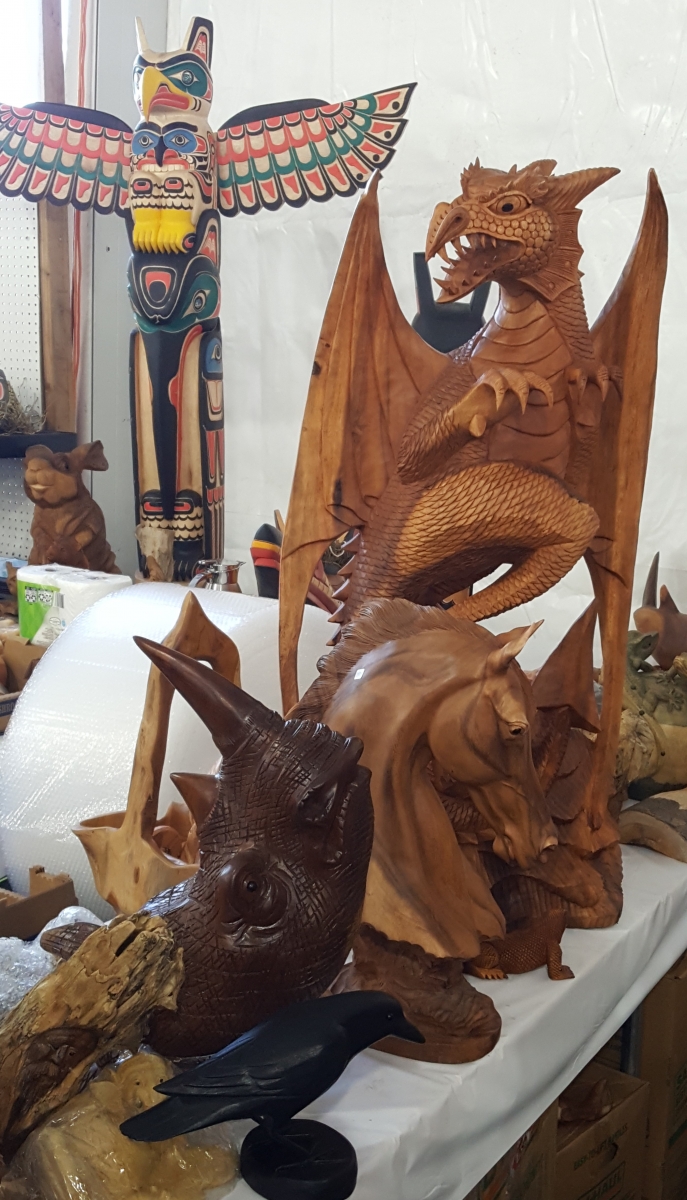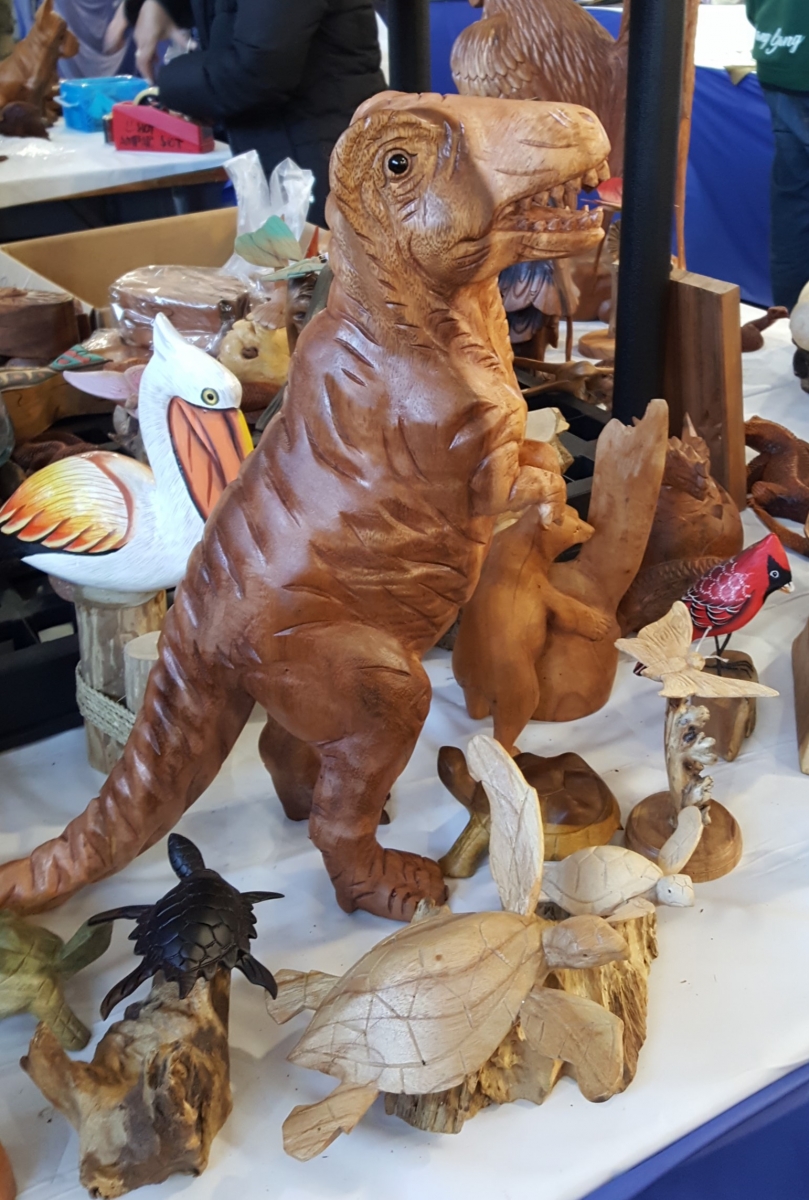 When I started buying from Rock Candy Bead Dad ran the show and the company name was Royal Quality Gems. Many years later his daughter, Jennifer, took over the business and now she and her brother run the show. Her mom does come with her still to help out. I just love seeing them every year, catching up with how everyone is doing and buying beautiful gemstones from them. Here is their booth. That is Jennifer leaning over and working hard with her mom just behind her bagging up gemstones.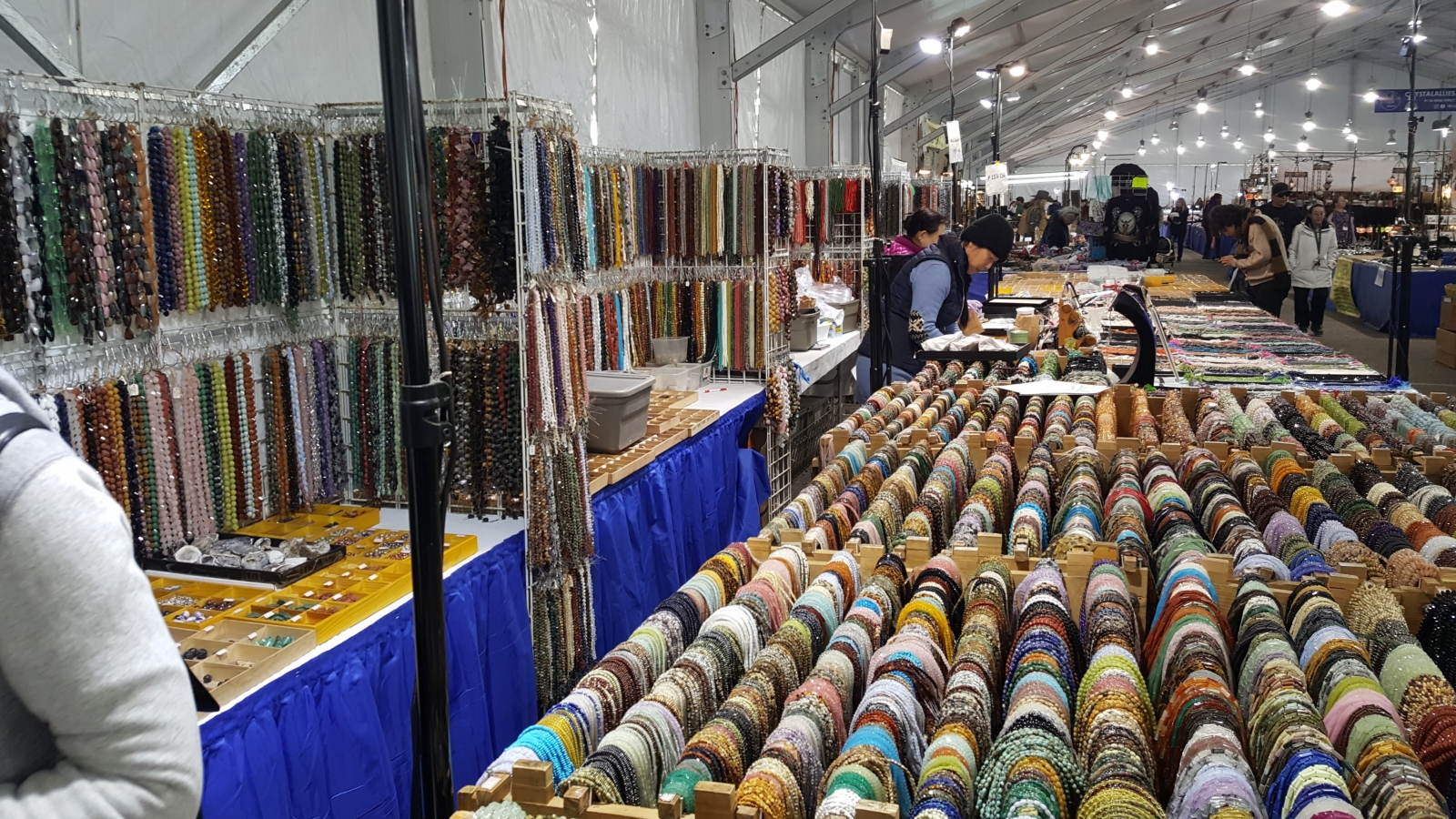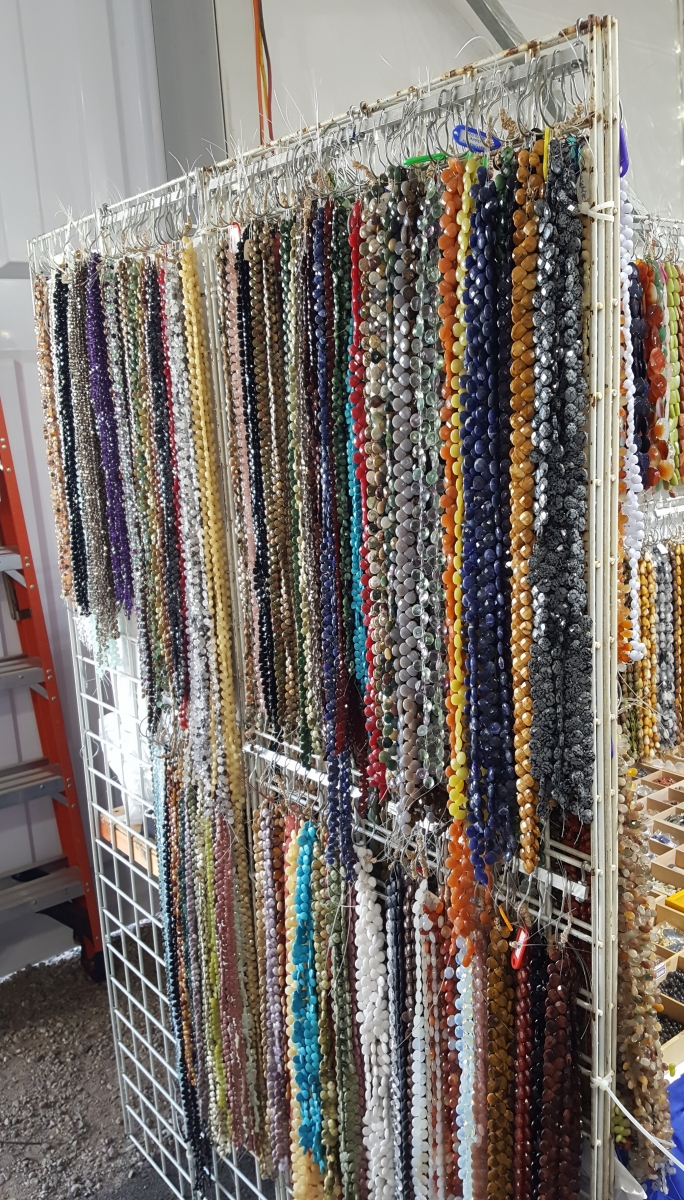 Their quality is excellent! If you're looking for good quality gemstones and you're at the Kino show be sure to check them out. They're always at the back of the tent, in the middle. Here are the goodies I got from them today. Fluorite, amethyst, cloisonne beads, amazonite wings and glass stars.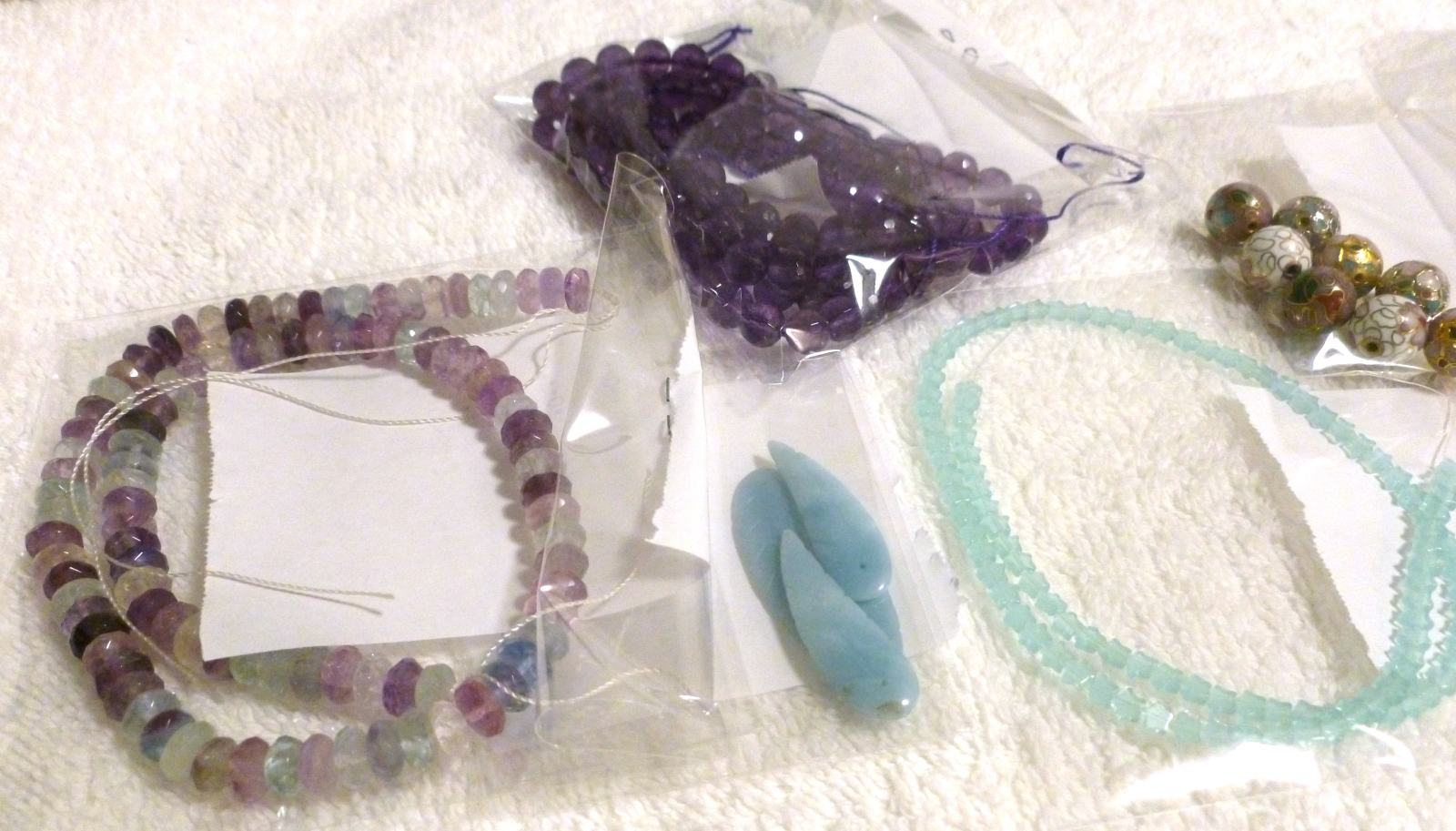 My mom and I were both tired but fell in love with these metal art pieces for sale just outside the door. Aren't those little cacti cute! If I was driving home I would have bought one in a heart beat!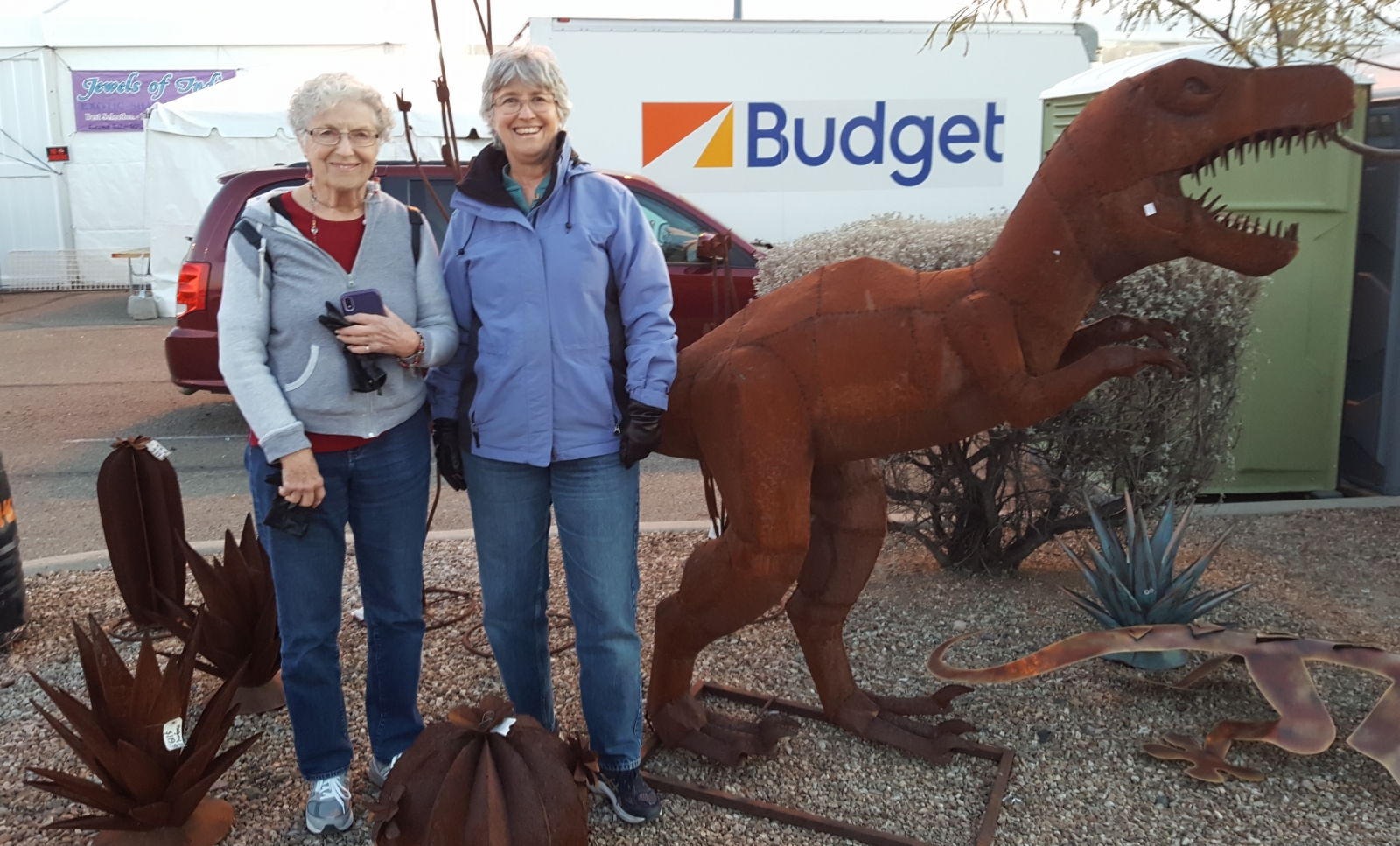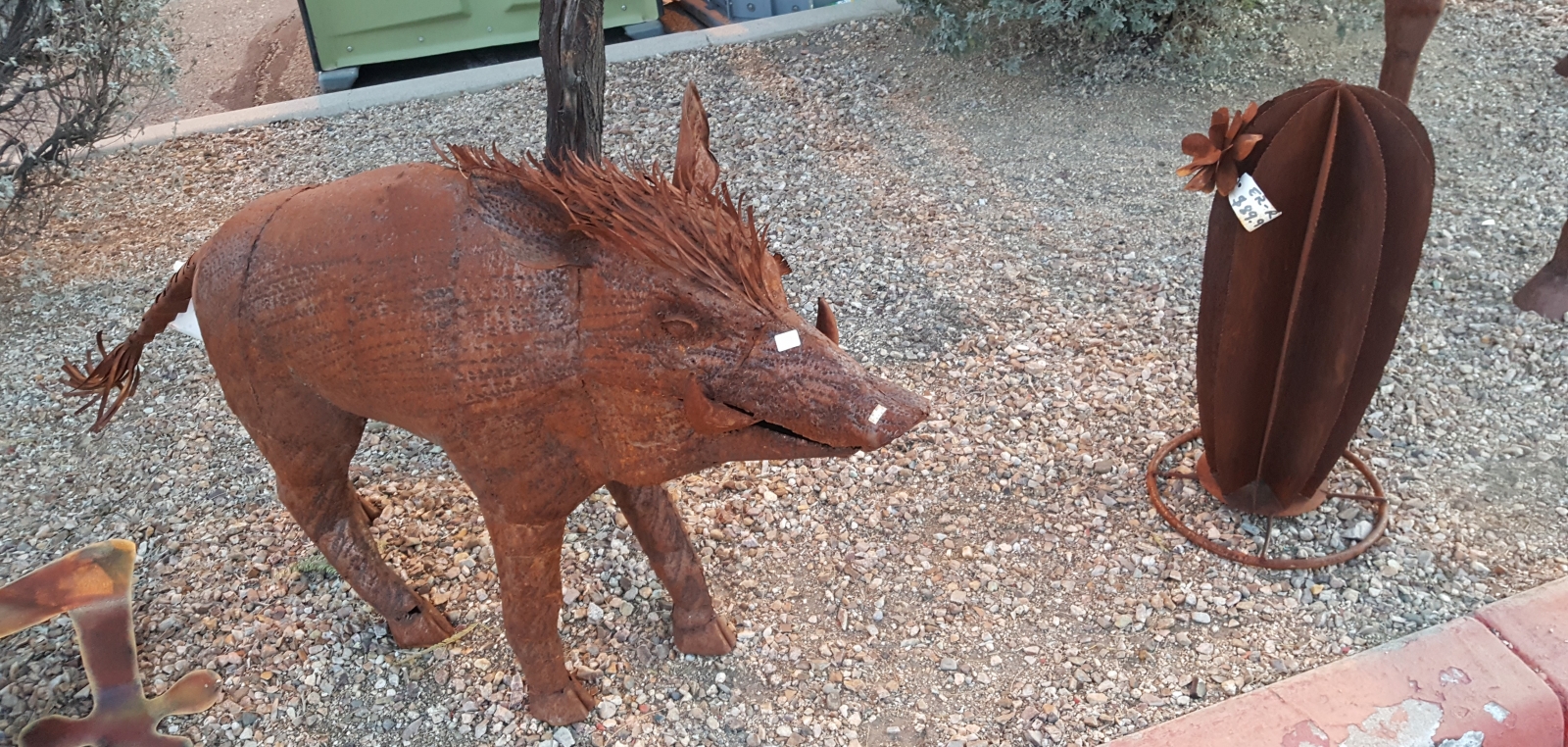 We both had tired feet at the end of today so we drove off into the sunset once again. Fortunately we had enough leftovers from previous dinners so we didn't have to go out to eat again tonight.
Tomorrow is AGTA and GJX!!!!