Tucson Day 2
**FREE SHIPPING IN THE US FOR ALL ORDERS** **ORDER GIFT CERTIFICATES HERE**
**If you live in the EU or UK please contact me before ordering. I will have to create a custom order for you in my Etsy shop due to the VAT requirements that the EU and UK have put in place.**
** Sorry due to to updates to the "Packaging Act" I am unable to ship to Germany. **
It was a beautiful day in Tucson today. A high of 75F and no wind. We started off the day going to the Miners Coop Show. This is always a fun show since you can talk to the actual people who go out and dig for gems! You'll find a lot of rough and finished stones here. We started off at Black Hat Trading and found a box of amethyst rough for $3 a piece. That was an offer I couldn't refuse so I dug around and found this little beauty. The crystals sparkle quite nicely in the light. It will look pretty sitting on a shelf near the window in my workspace. And I have to share a picture of the box of amethyst. :)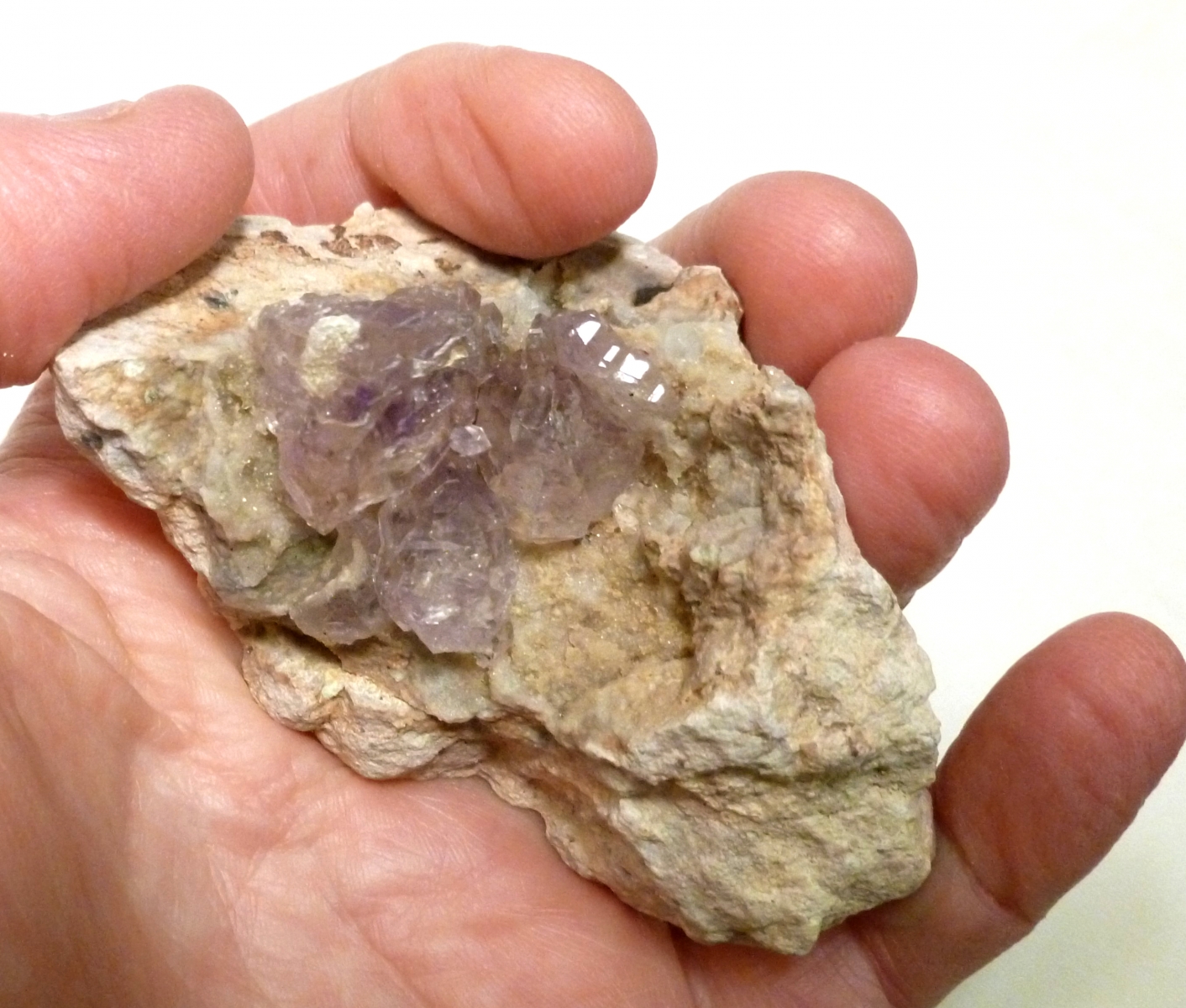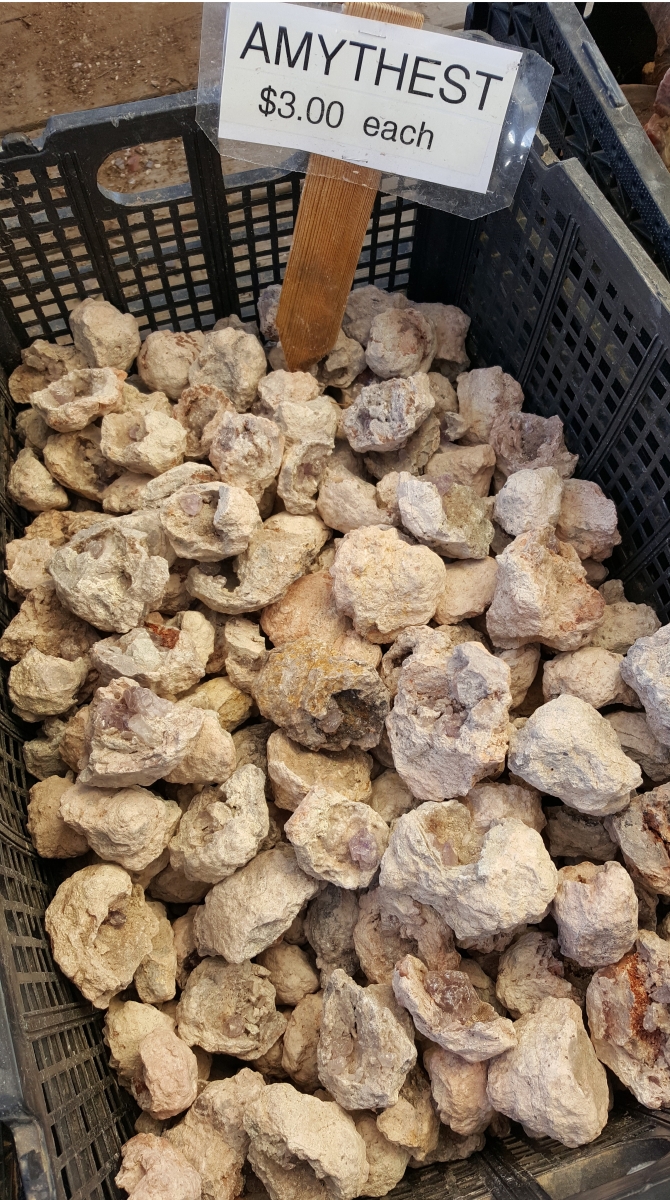 We continued walking around and visiting with all the vendors and saw this beautiful agate, which I've never seen before. The are calling it Black and Gold Agate which describes it perfectly. The agate and the crystals sure make a statement. I love it when you can see it in the natural state and the polished state.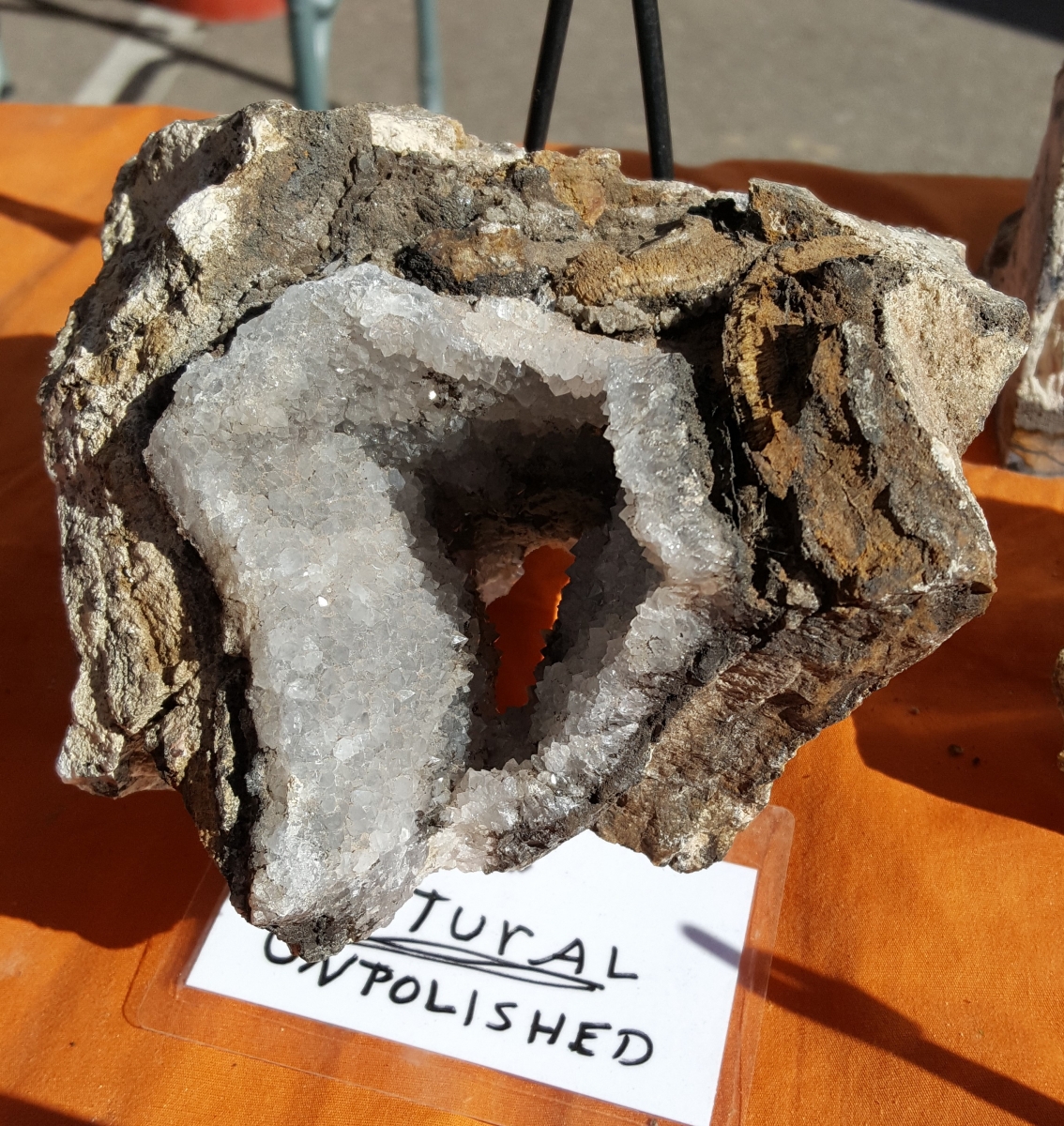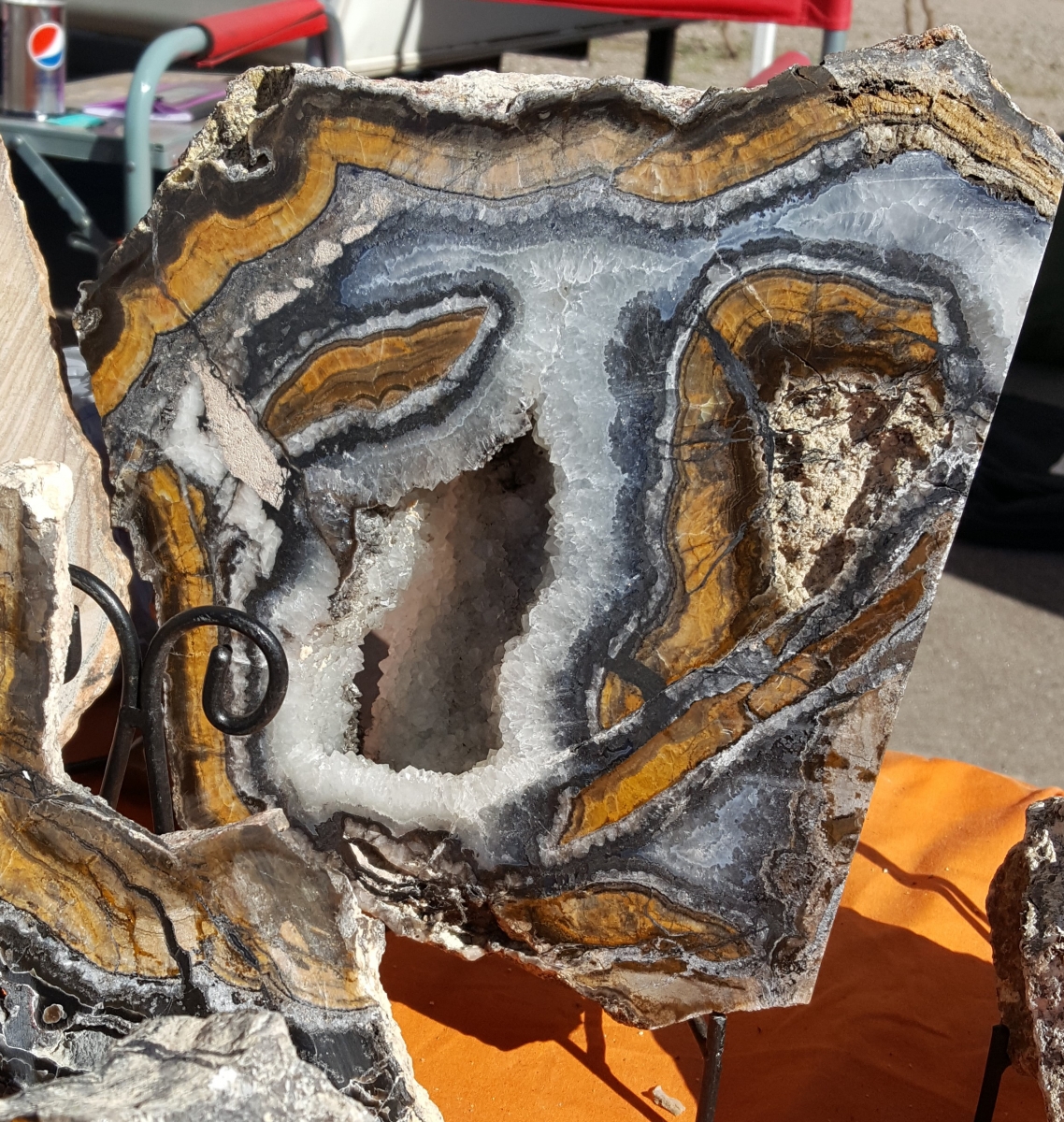 Right next door was this beauty. I think it is chevron amethyst (aka dog tooth amethyst aka banded amethyst).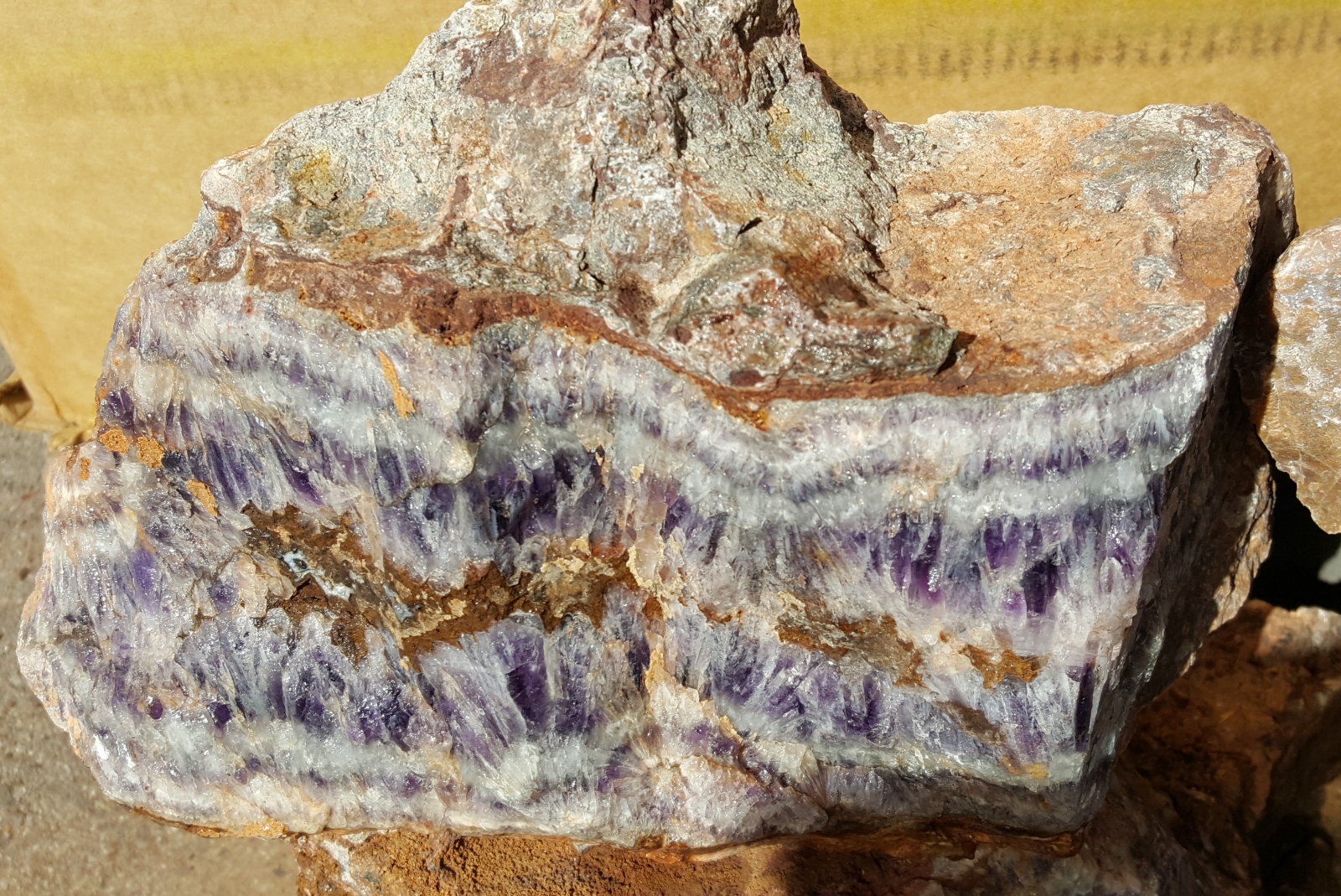 There were a LOT of gorgeous plume agates. These Utah Lace Plum Opal really caught my eye.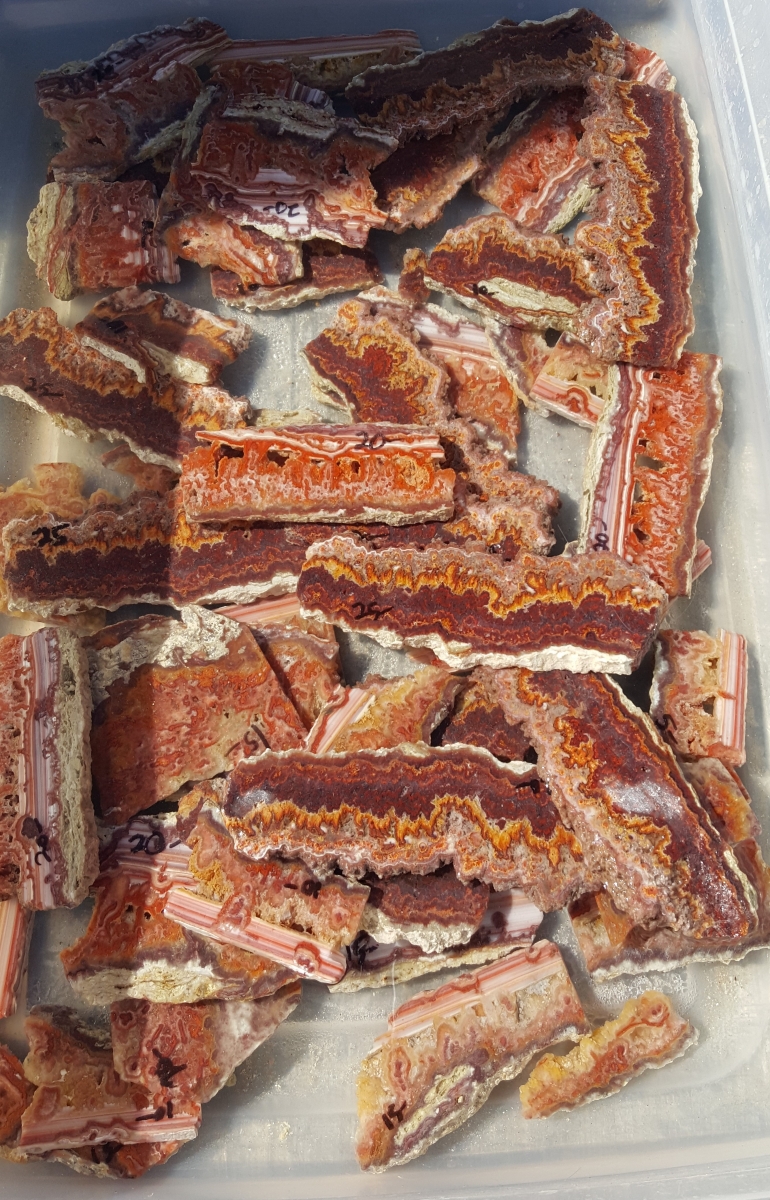 After wandering around a bit more we headed south and back to the JGM Show. I looked through more of Toyo's (Feng's Trading) beauties and found a few more things to buy. I didn't get them all in the picture though - the fabulous lapis flat squares I found are just gorgeous! The pictures do not do them justice since the lighting I get in the various places we stay is not the best for photography. Pictured are black onyx faceted hearts, peridot rough nuggets and hematite hearts and Toyo and I. :)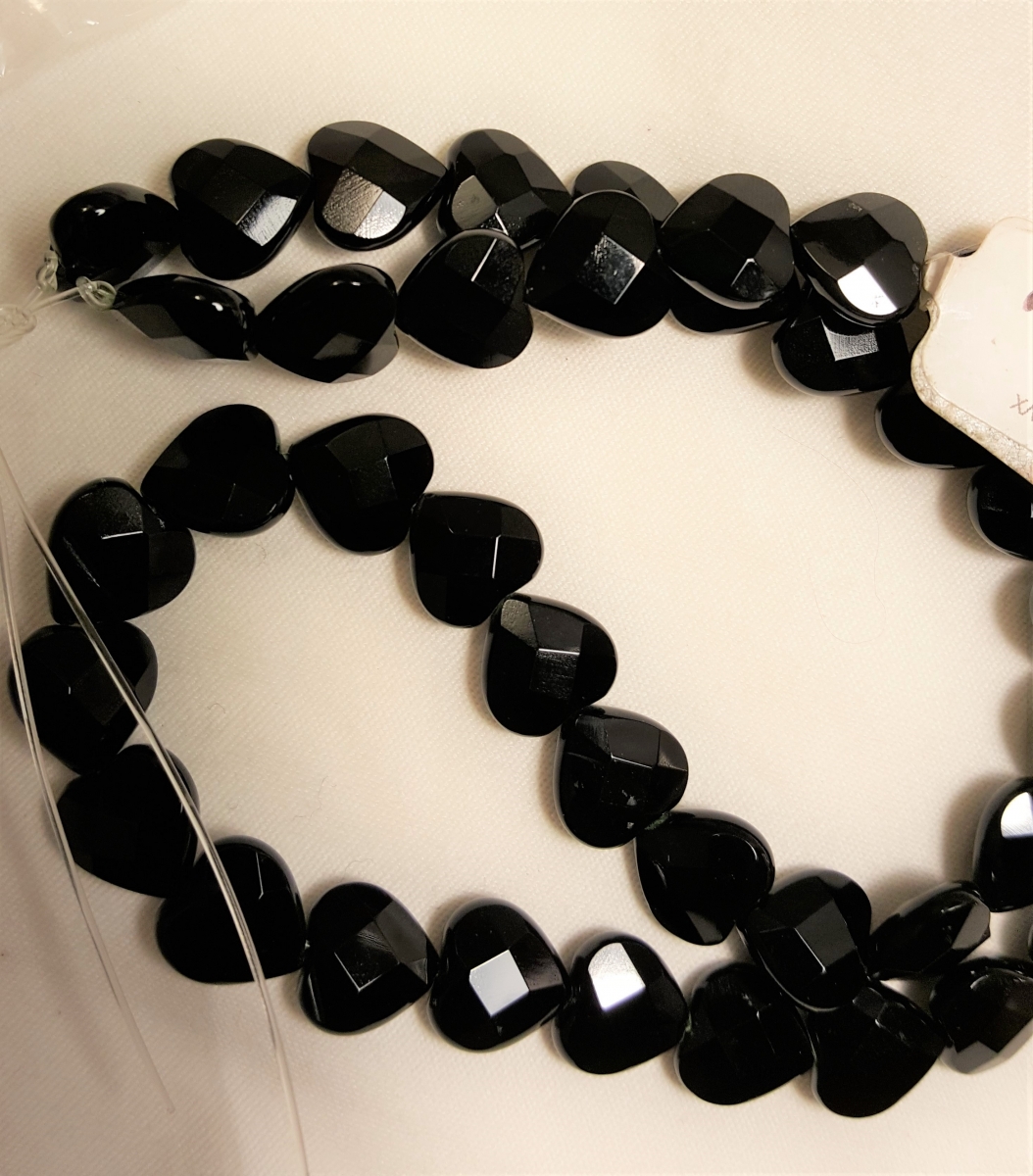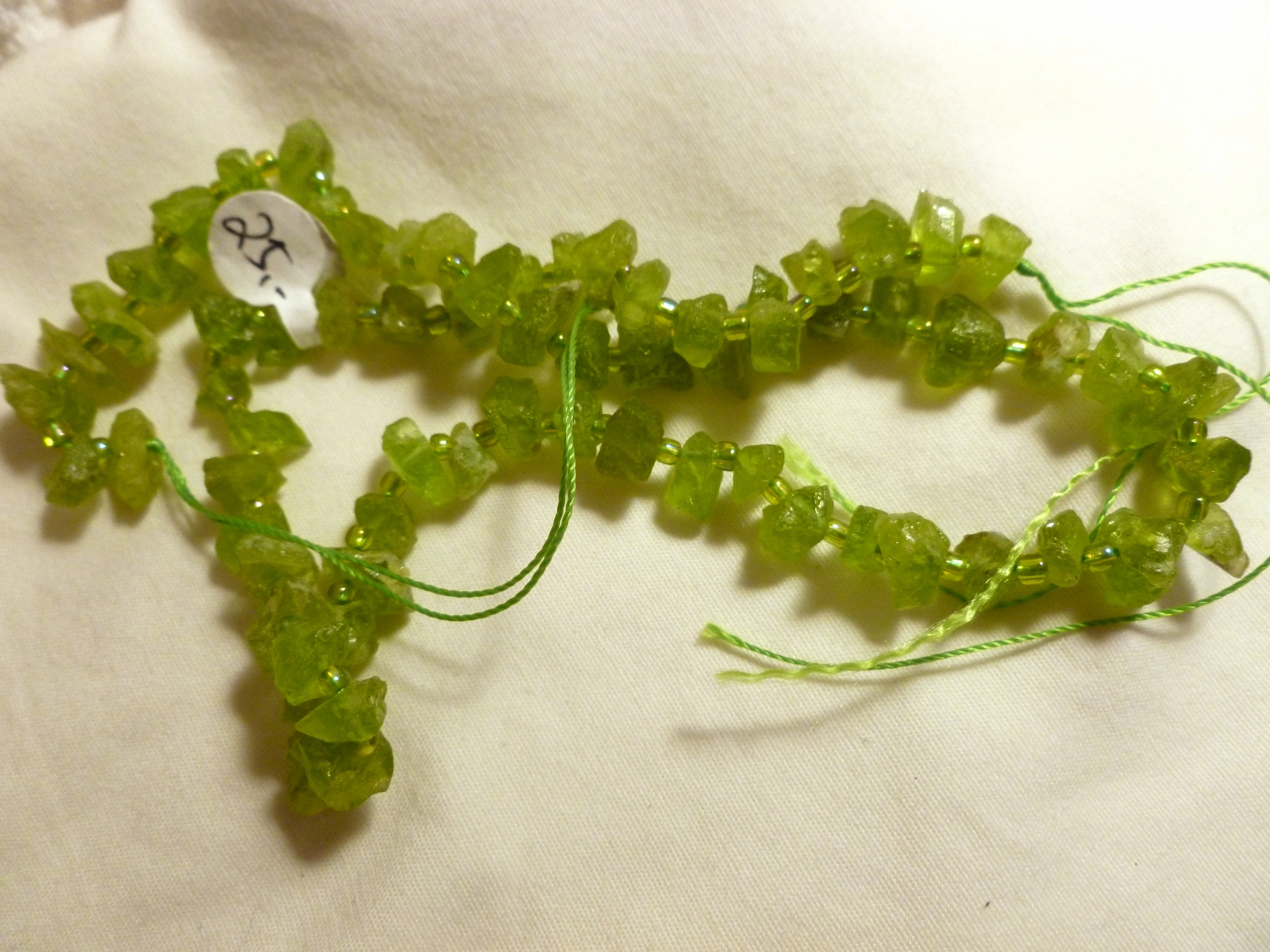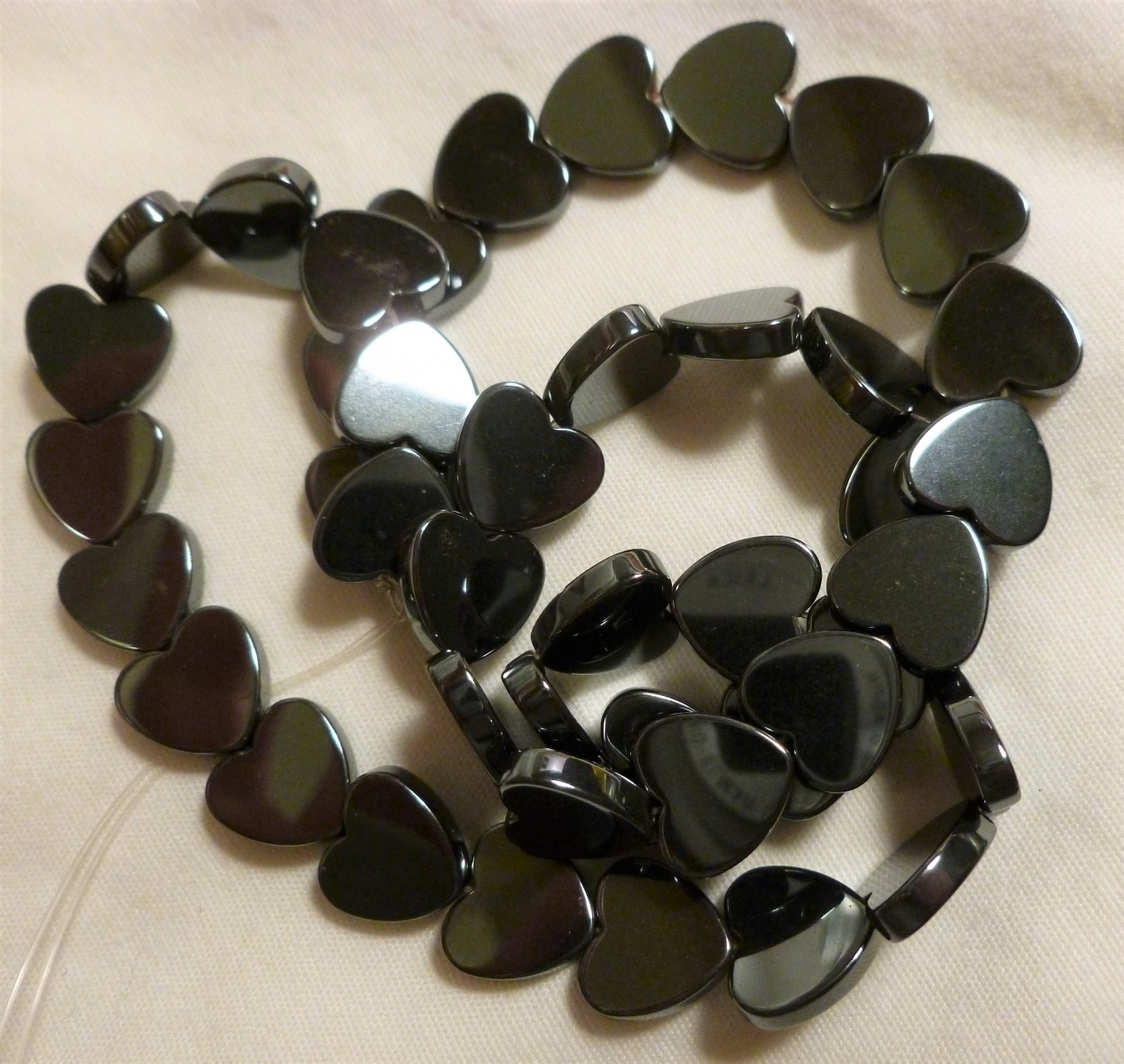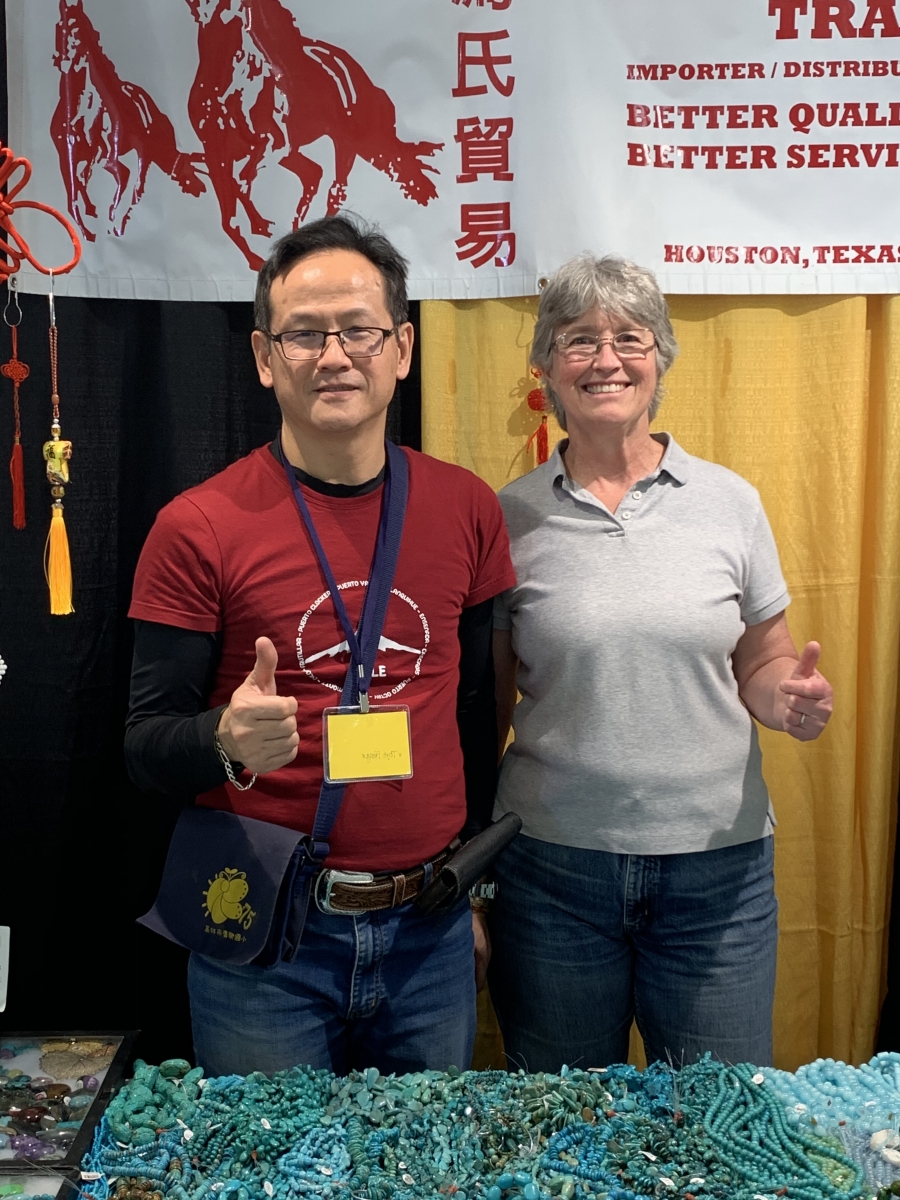 Next on the agenda was lunch! Since El Minuto cafe is a block from the JGM Show we stopped there for a bite. Their food is always good and quite filling! It is right across from the Tucson Convention Center so if you're over there for the AGTA show and you like Mexican food give them a try.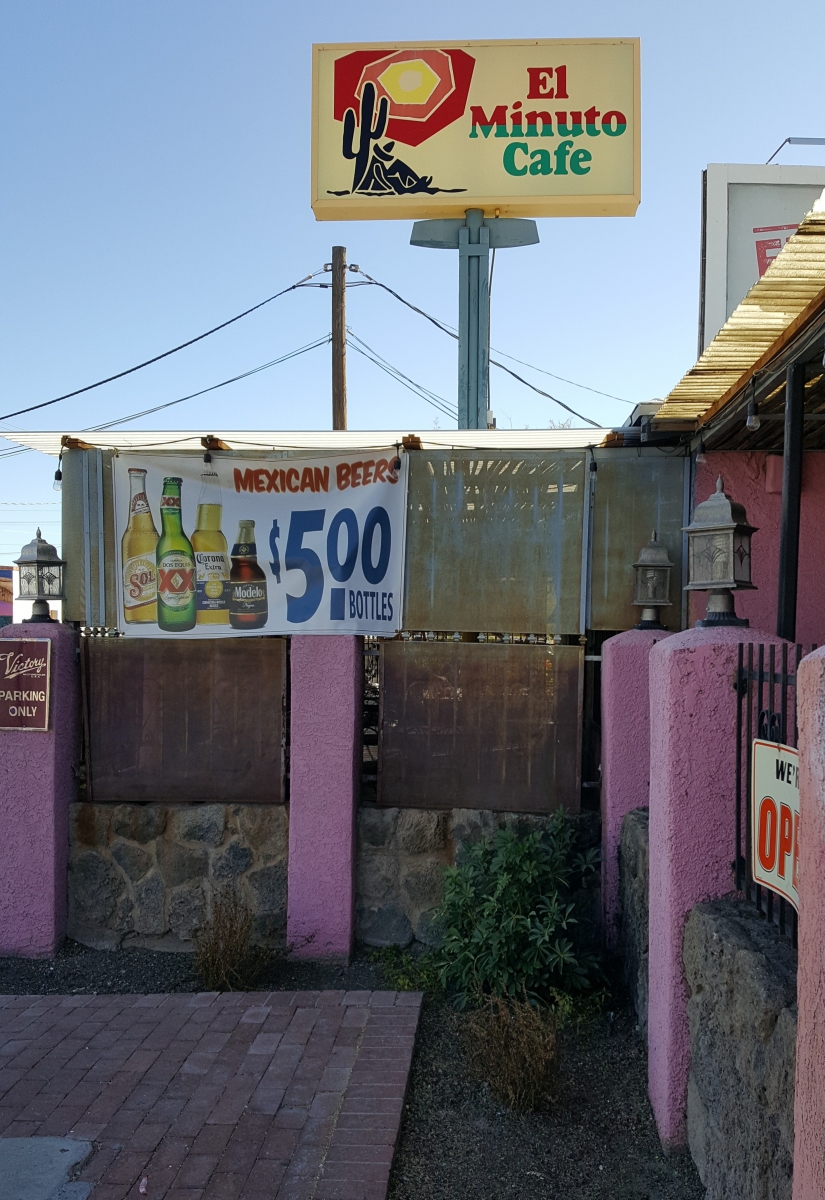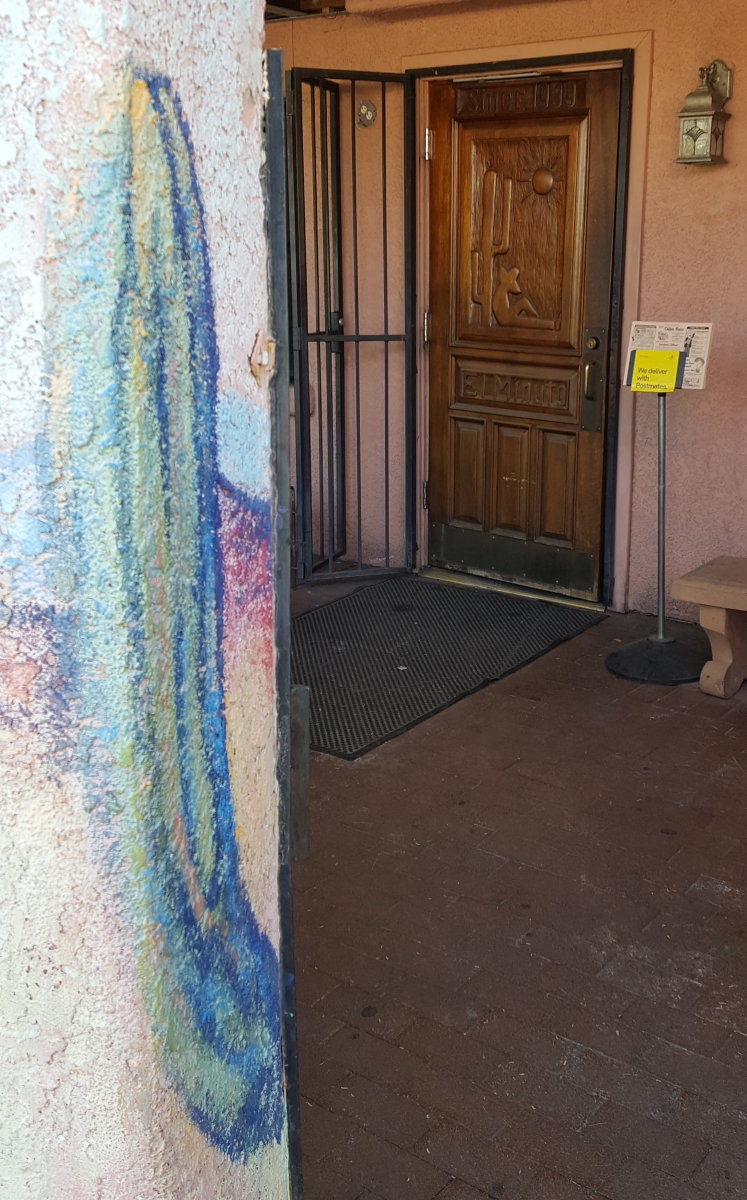 Our final stop for the day was the JOGS show. There are quite a few vendors here that I like to visit. Today I had a great time shopping and visiting with Naresh of A-One Stones. His wife and son were also working with him in the booth. I got so many lovely gems! And I was happy they had some half drilled stones that I could pick from. Here are the pretties - and excuse the crappy picture quality. Pictured are pink amethyst, 2 aquamarine pairs and a chalcedony pair, not to scale.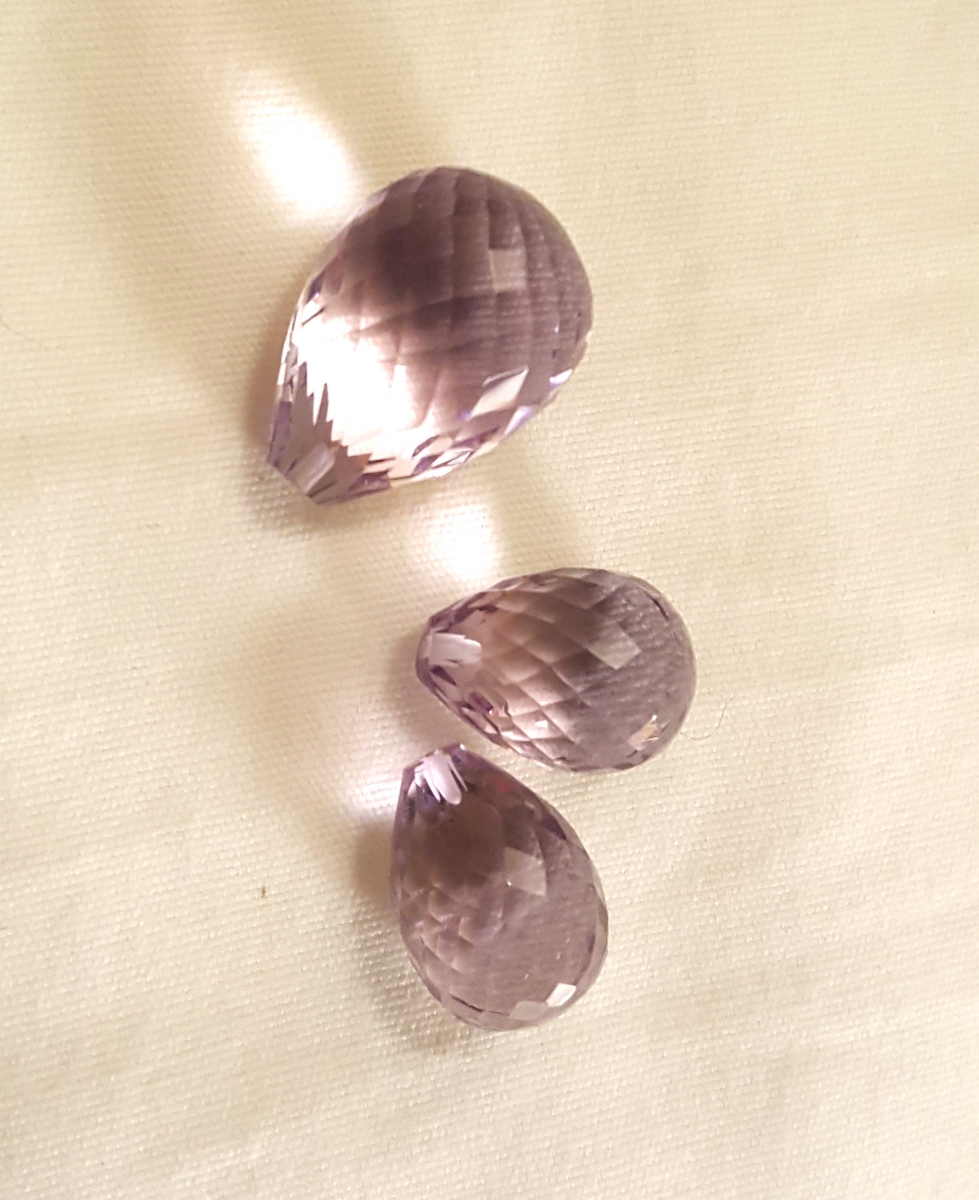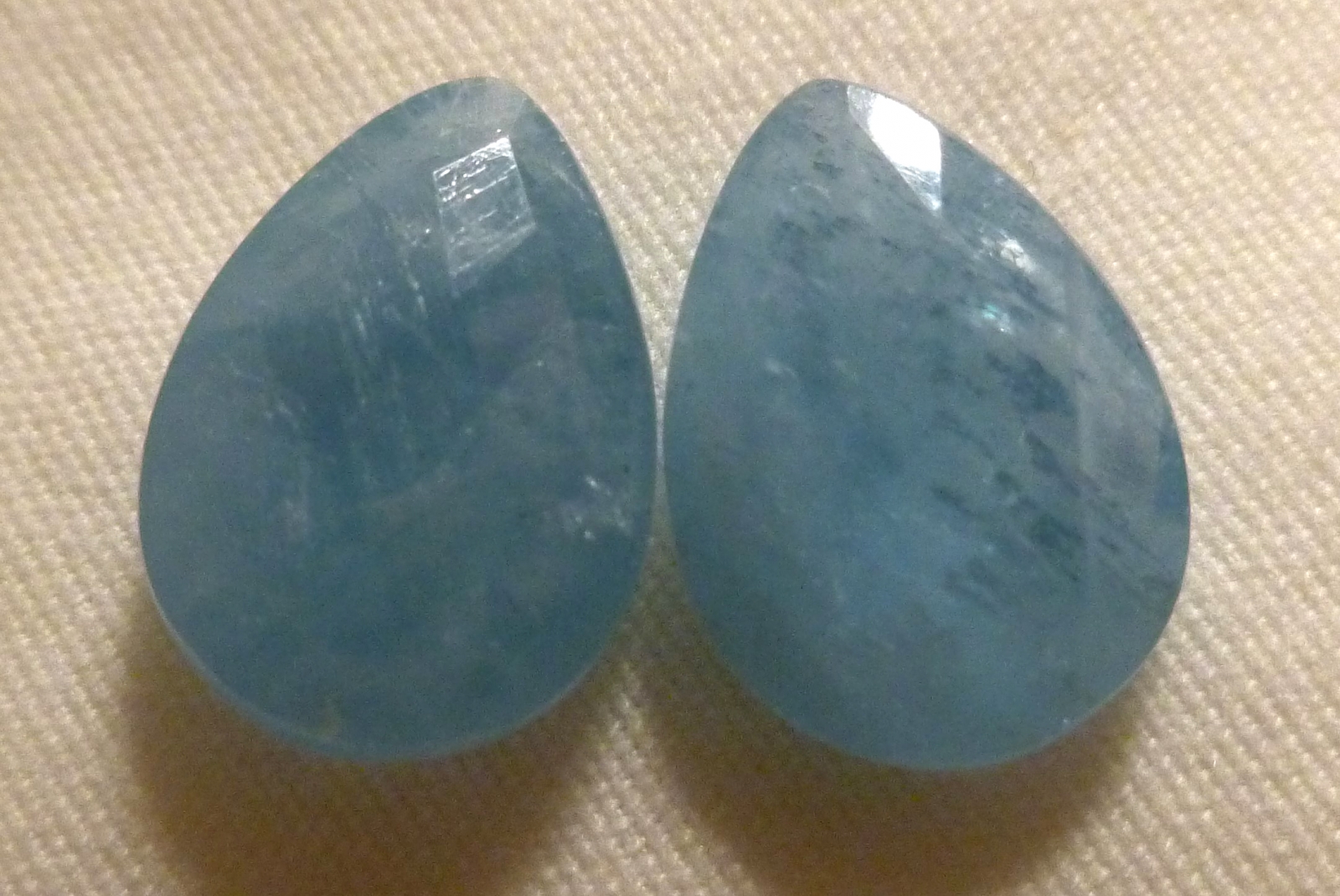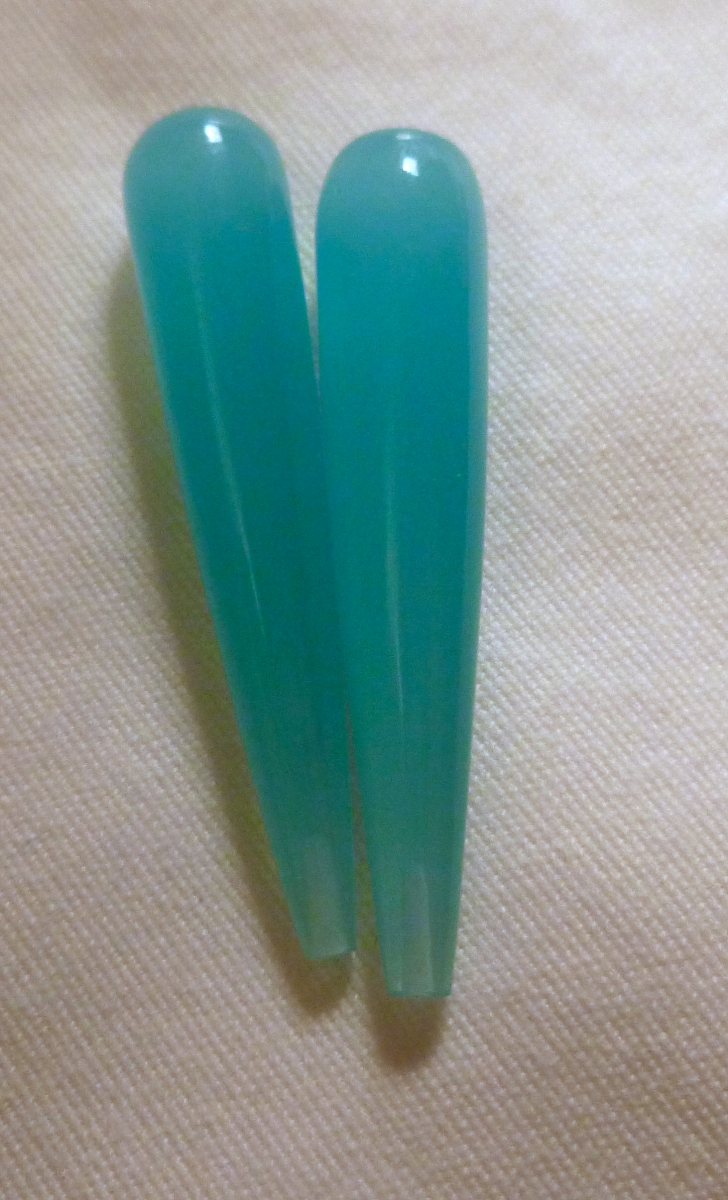 And here we have some gorgeous, dark blue sodalite - excellent quality but I had a heck of a time getting it to look blue in the pictures rather than black, natural zircon (so much SPARKLE!), amazonite, and green fluorite.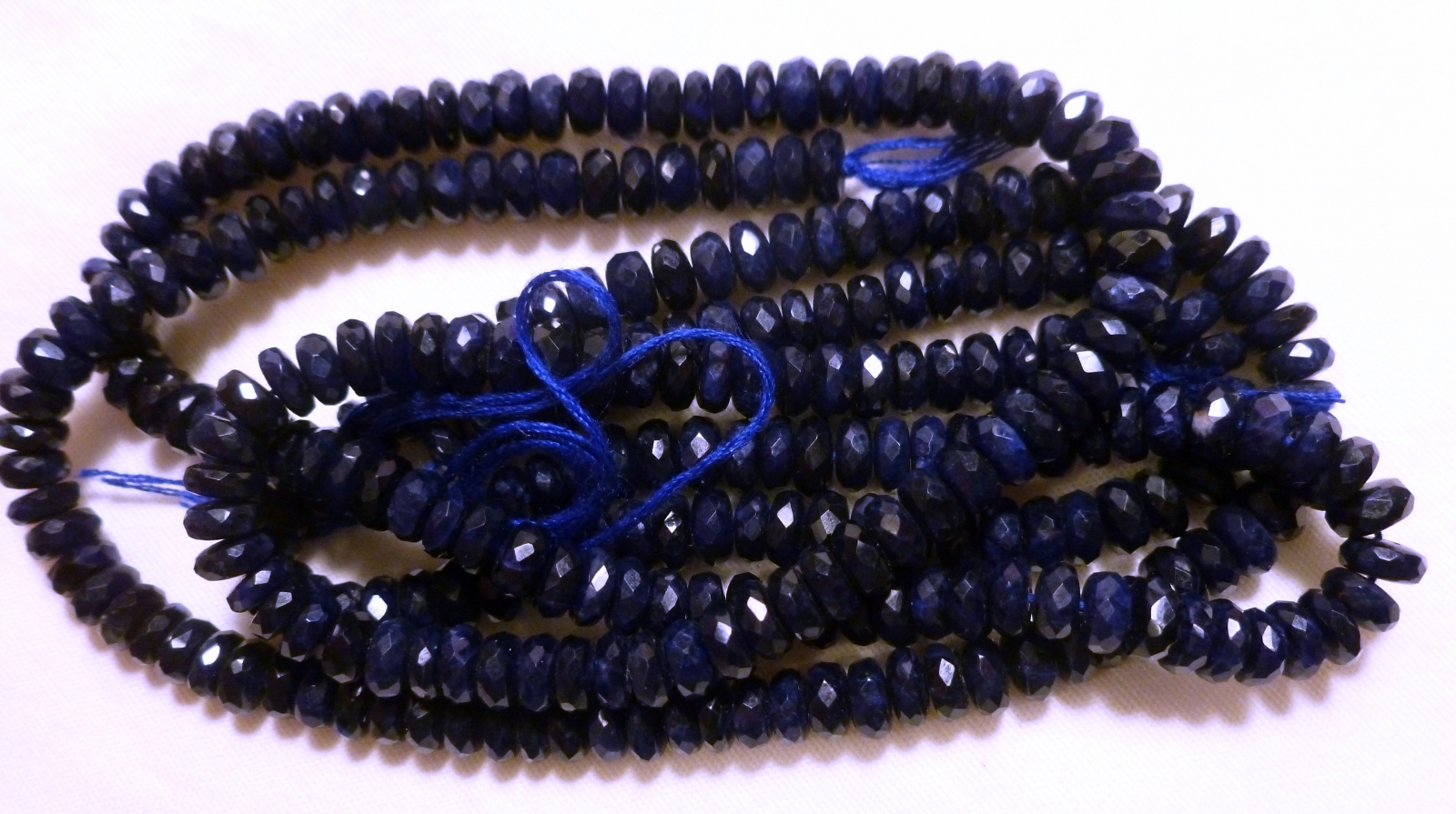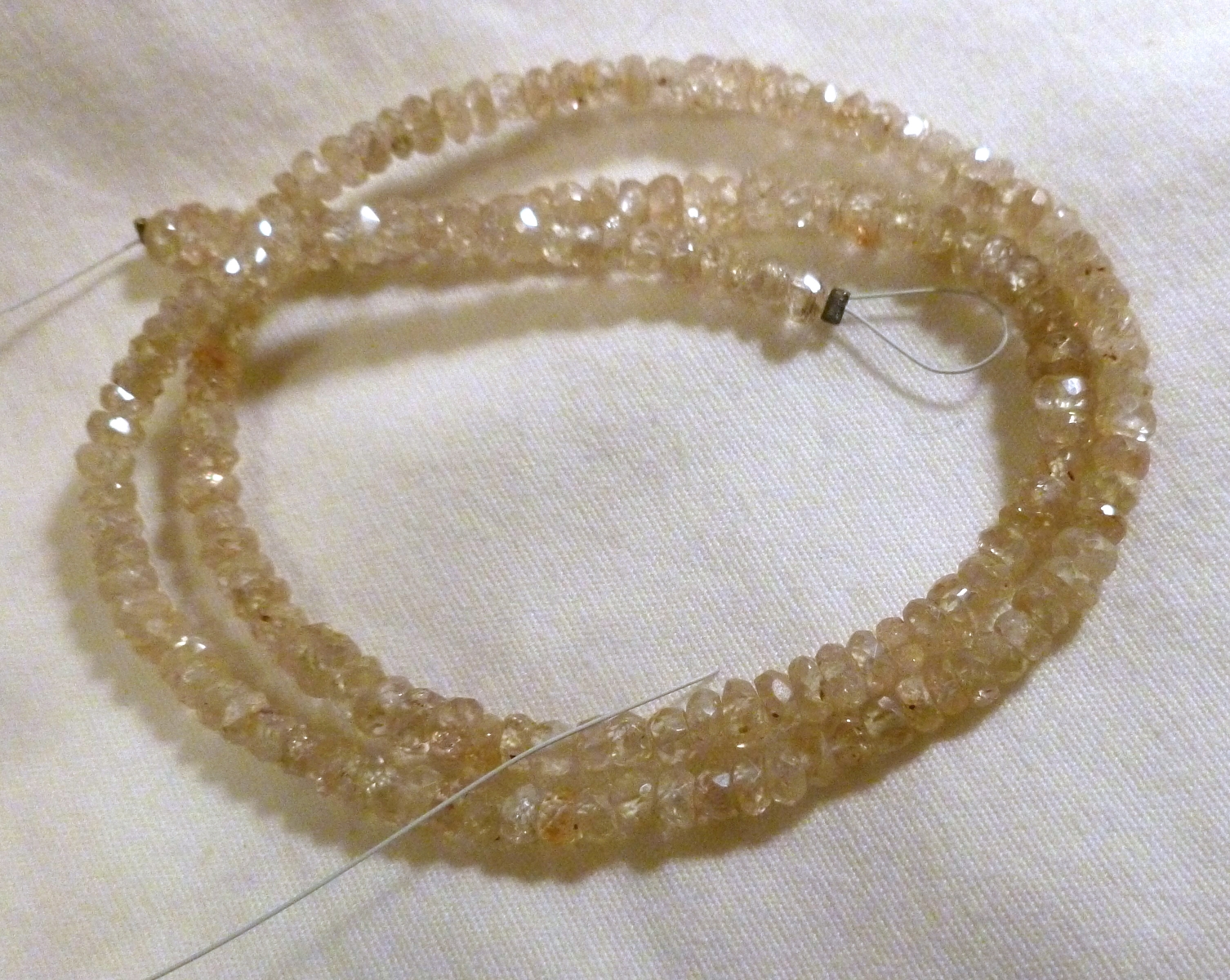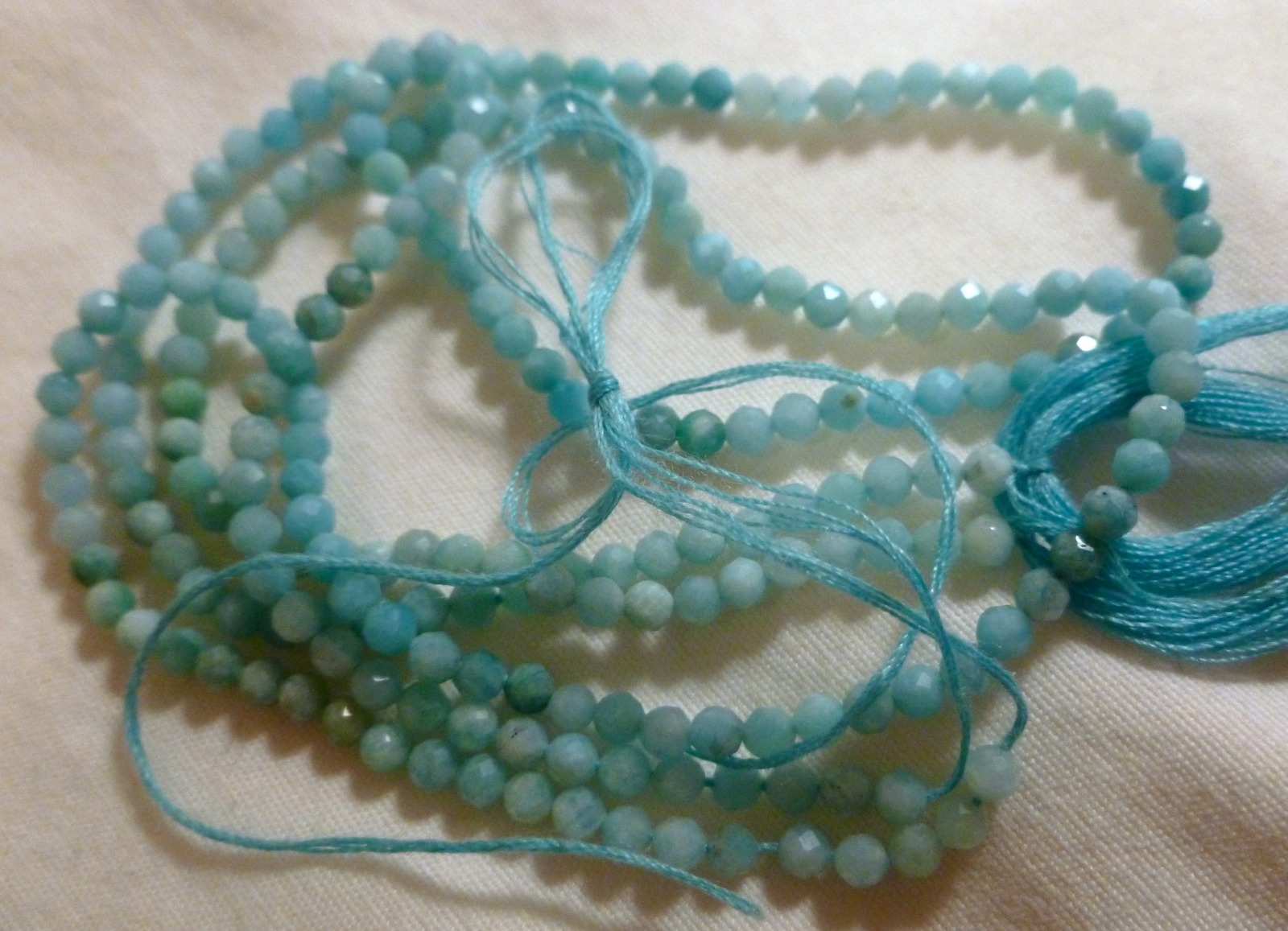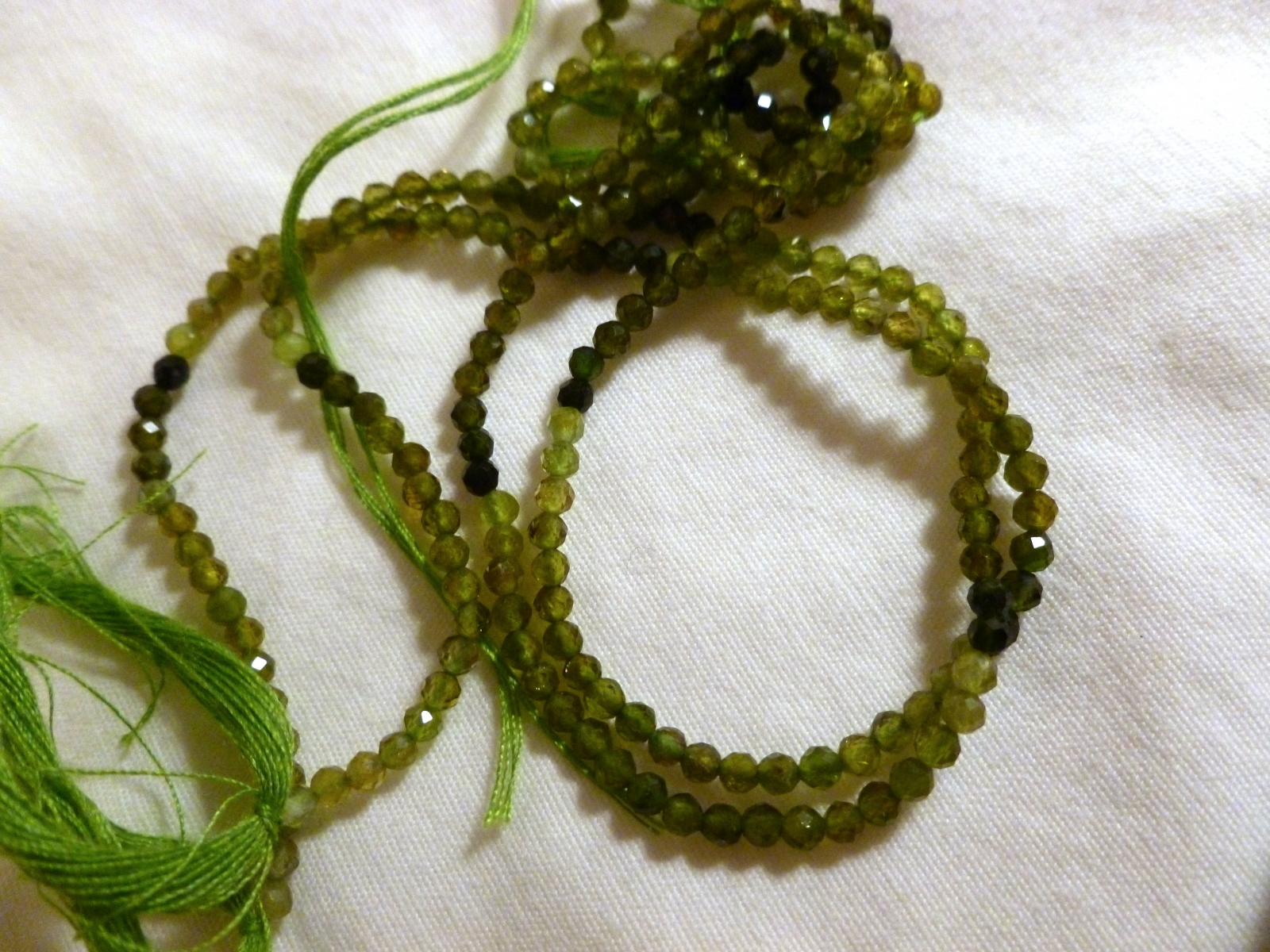 I just loved these faceted cubes in garnet and amethyst. And, finally, a picture of Naresh, his wife, son and me.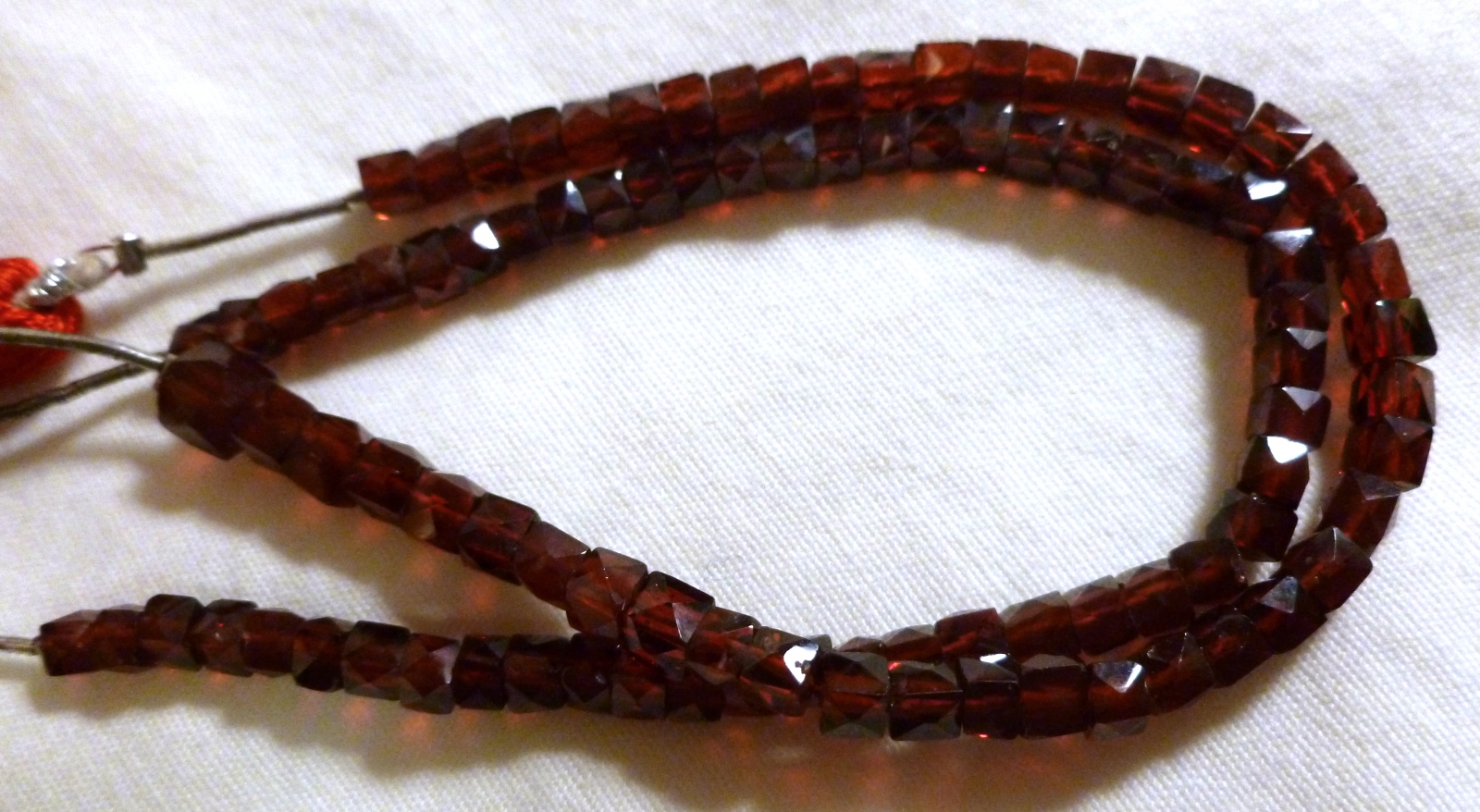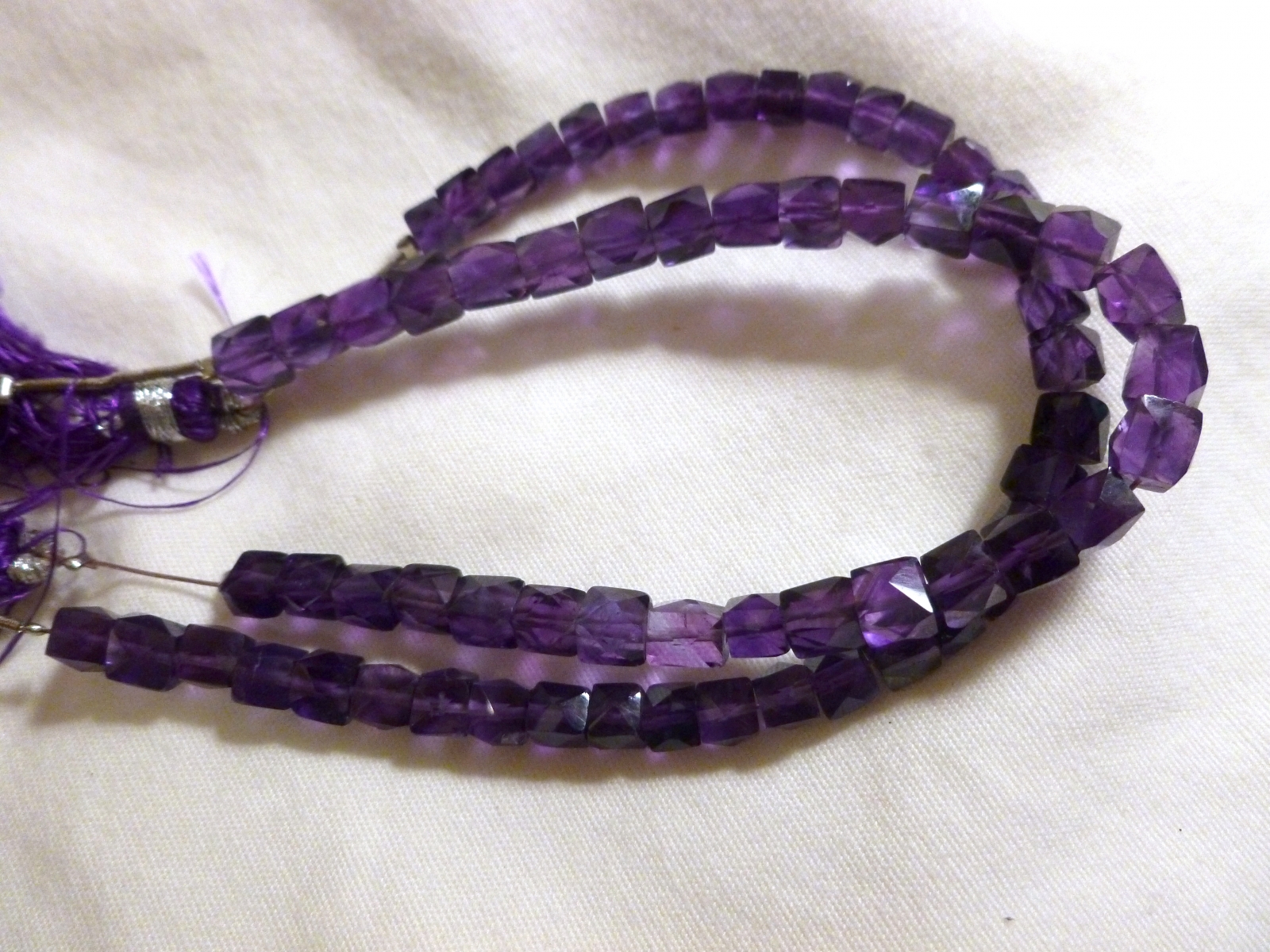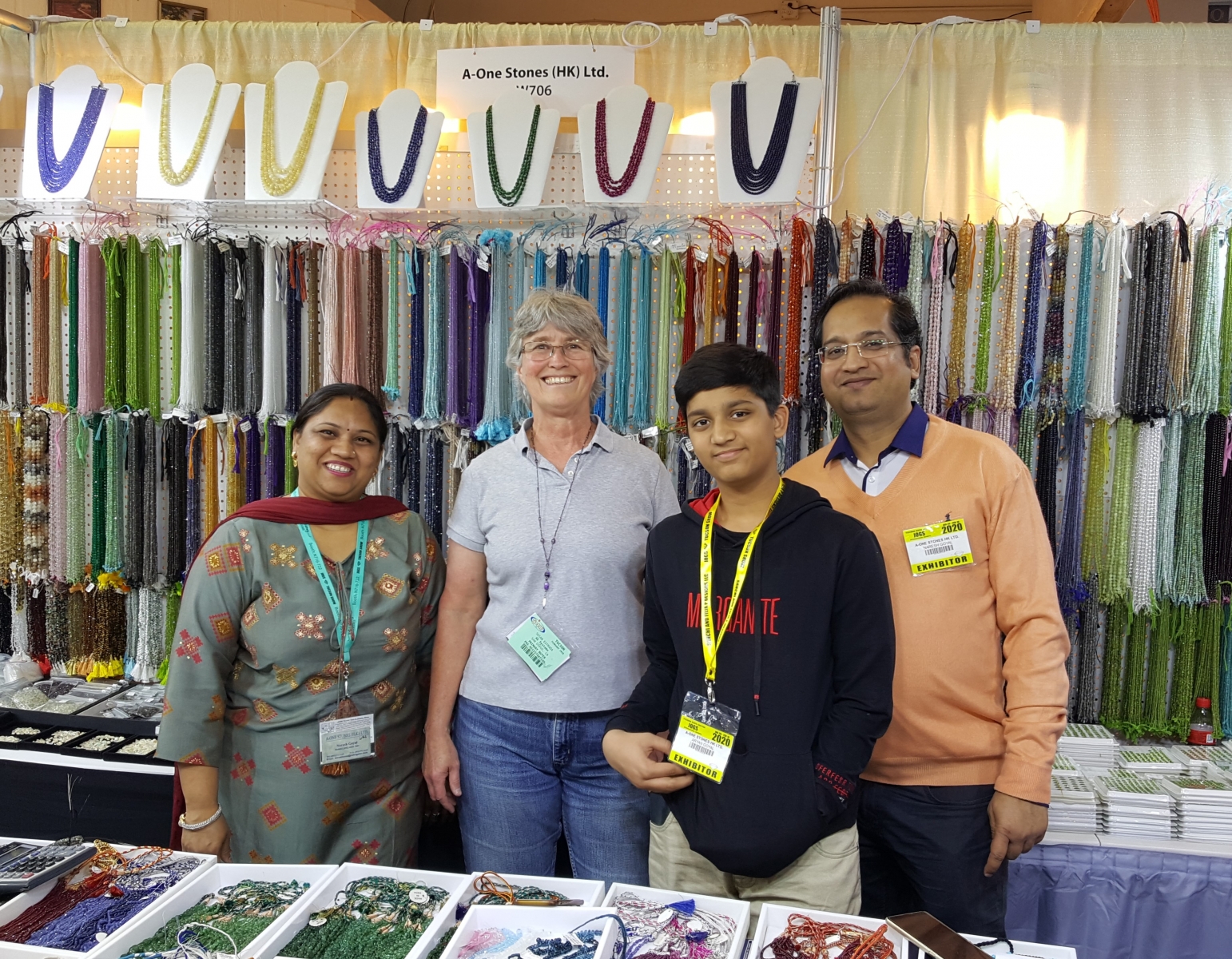 And, just to give you a sense of things. Here is a picture of just one of the many vendors with plates of gemstones on the table waiting for someone to buy them. And, if you like designer gemstone earring pairs and pendants be sure to visit Best In Gems. Here are their trays of cut stones - pairs and singles (and my mom :) ). They are gorgeous! I was too tired to shop with them today, but they are on my list for a visit tomorrow.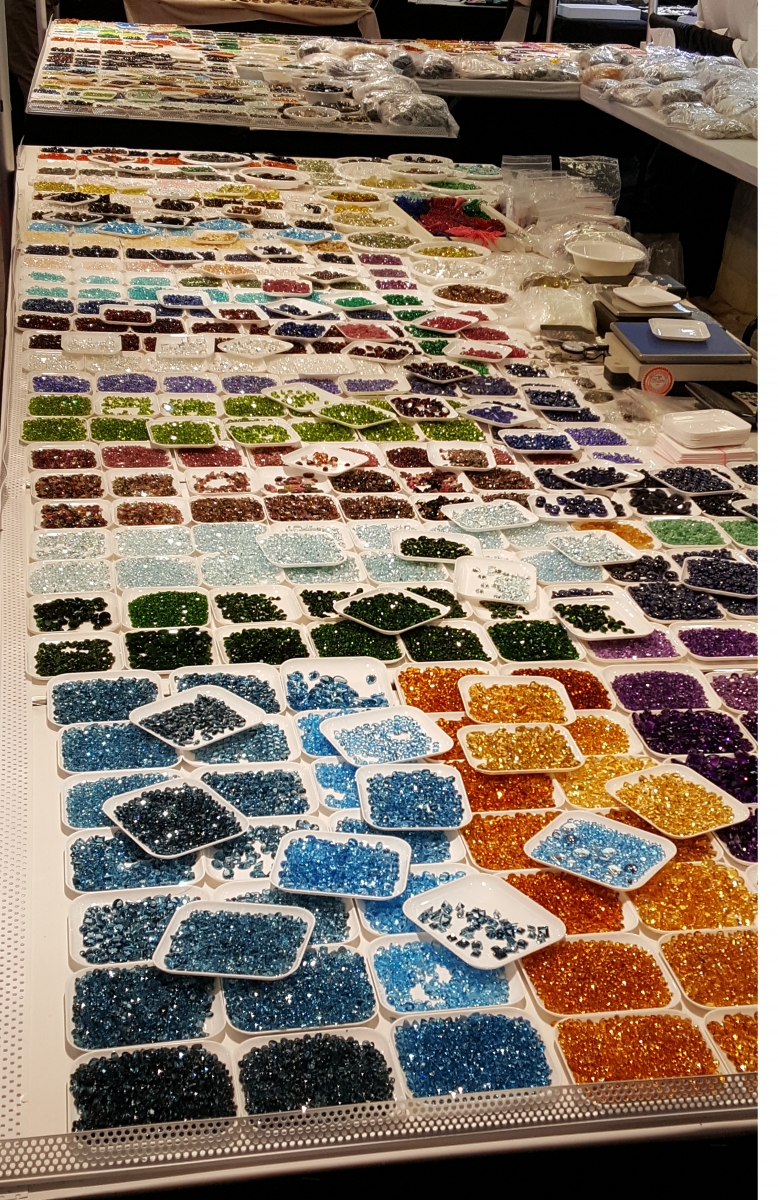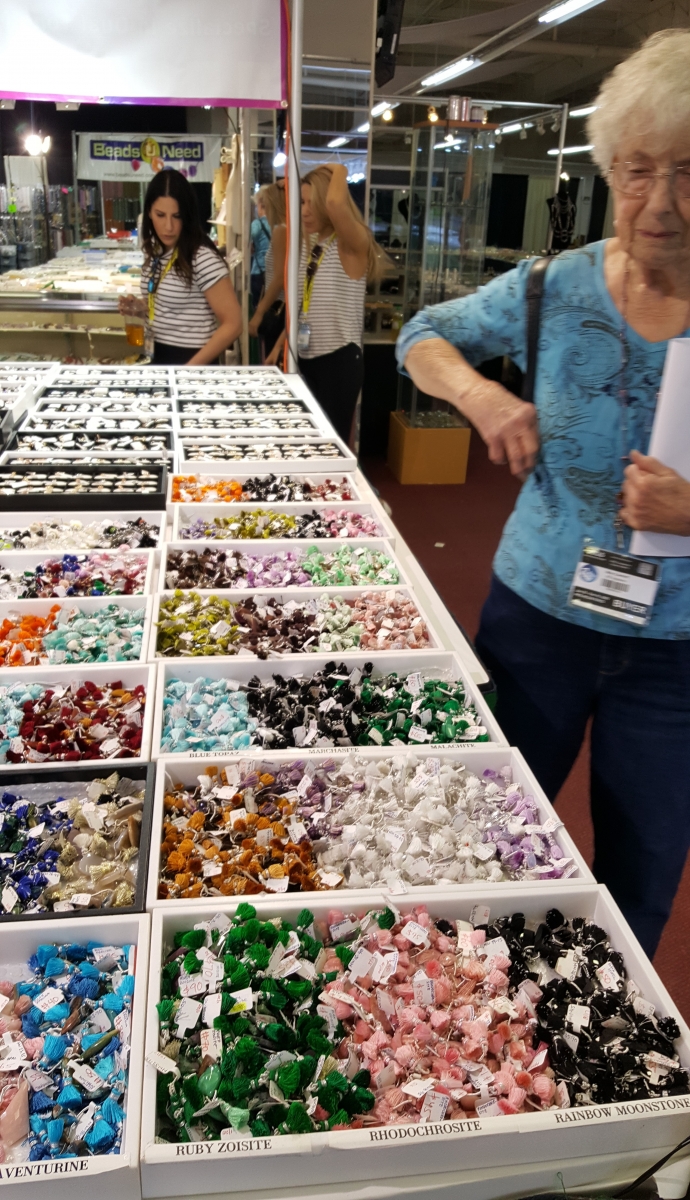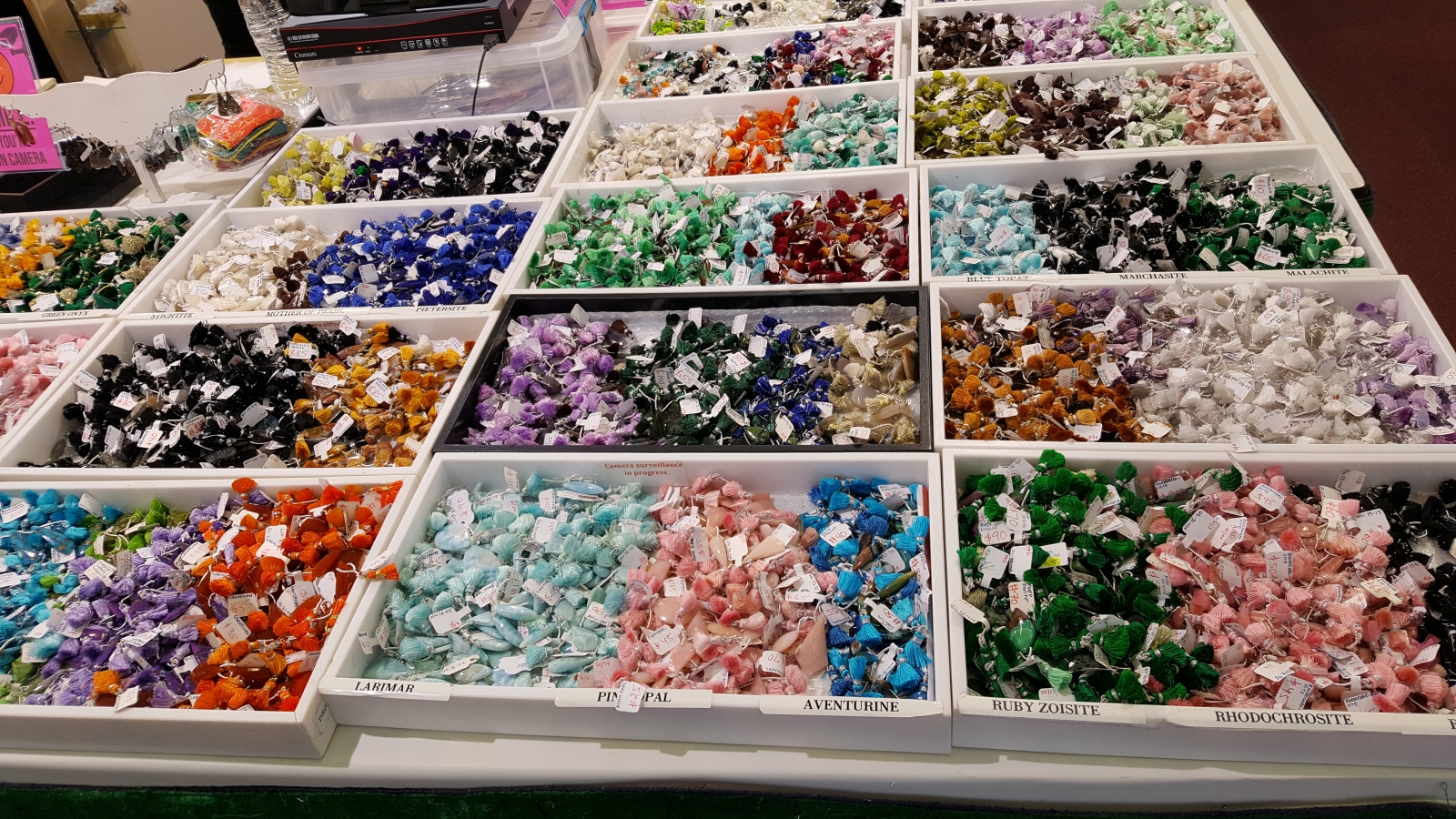 As we headed out we saw all this very cool metal art in Kalifano's booth. Don't you want a Dalek to decorate your coffee table?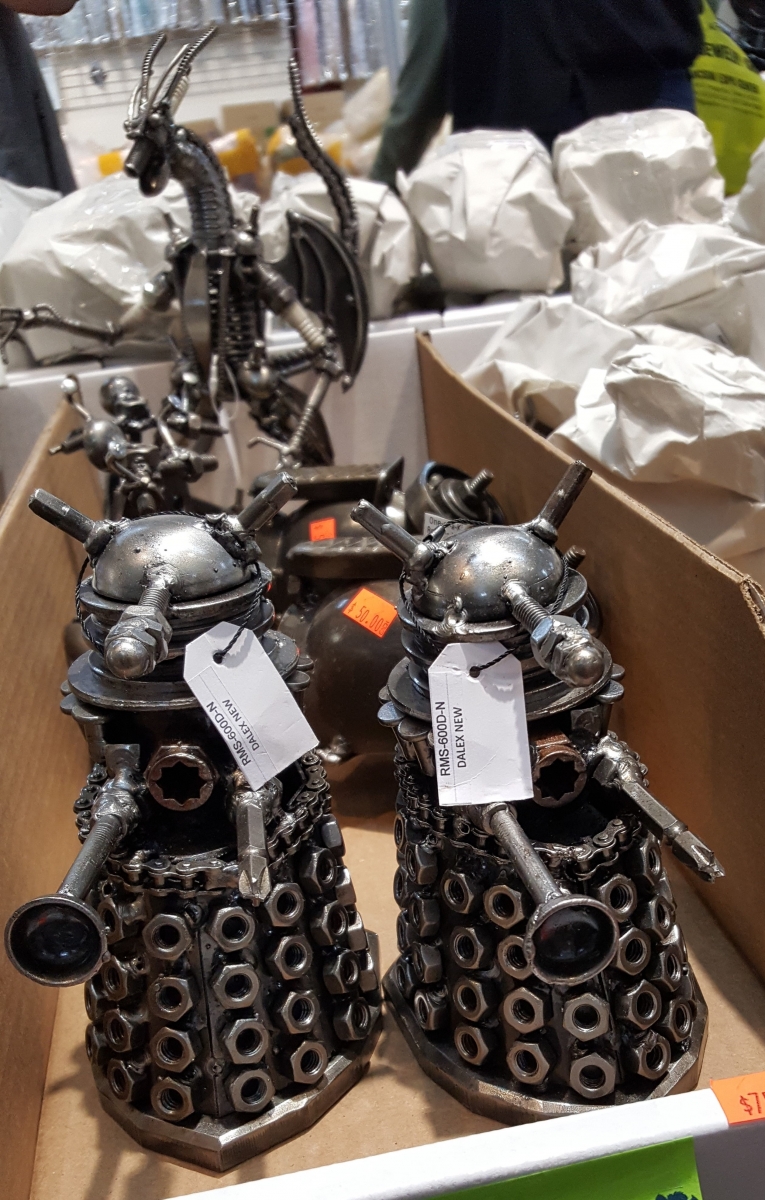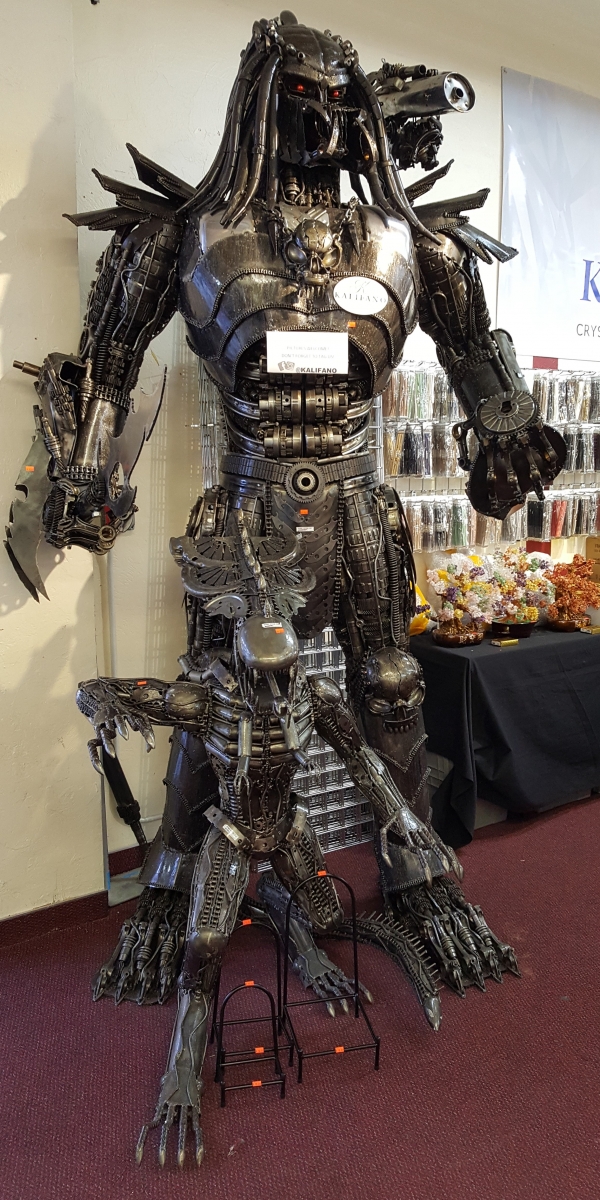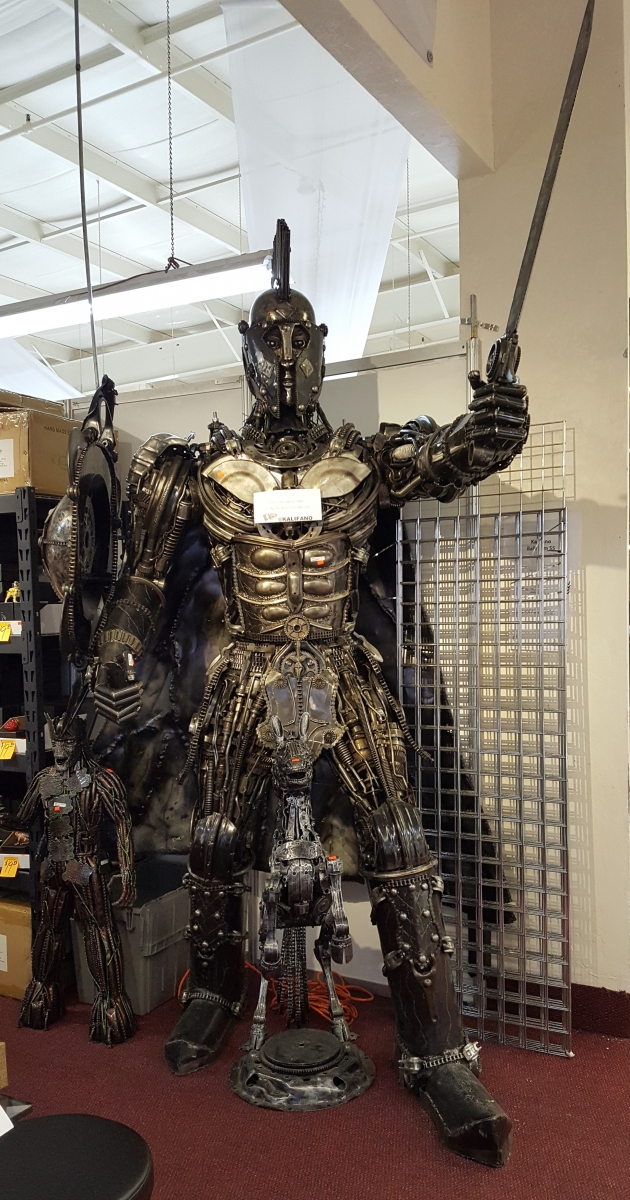 And that is a wrap for today!