Tucson 2021 - Day 4
**FREE SHIPPING IN THE US FOR ALL ORDERS** **ORDER GIFT CERTIFICATES HERE**
**If you live in the EU or UK please contact me before ordering. I will have to create a custom order for you in my Etsy shop due to the VAT requirements that the EU and UK have put in place.**
** Sorry due to to updates to the "Packaging Act" I am unable to ship to Germany. **
On day 4 (Monday) I was, originally, scheduled to head home. I was talking with my hubby about my schedule for the day after breakfast and he wanted me to stay another day since I would have started driving home at probably 7PM. He checked on room availability and the hotel had space so I was good to go for another day. Since I drove myself I didn't have to worry about extending a rental car or changing my plane ticket. Driving defintely gave me a bit more flexibility. With the need to cram all the things I needed to do into one day relieved, I headed south with a lighter load.
I had to start out at Holidome to do some returns/exchanges on some of the pairs I got on Sunday. As I went in I saw some beautiful turquoise cab pairs here. I shared the pictures with the Gals and got some interest if I was able to get back there.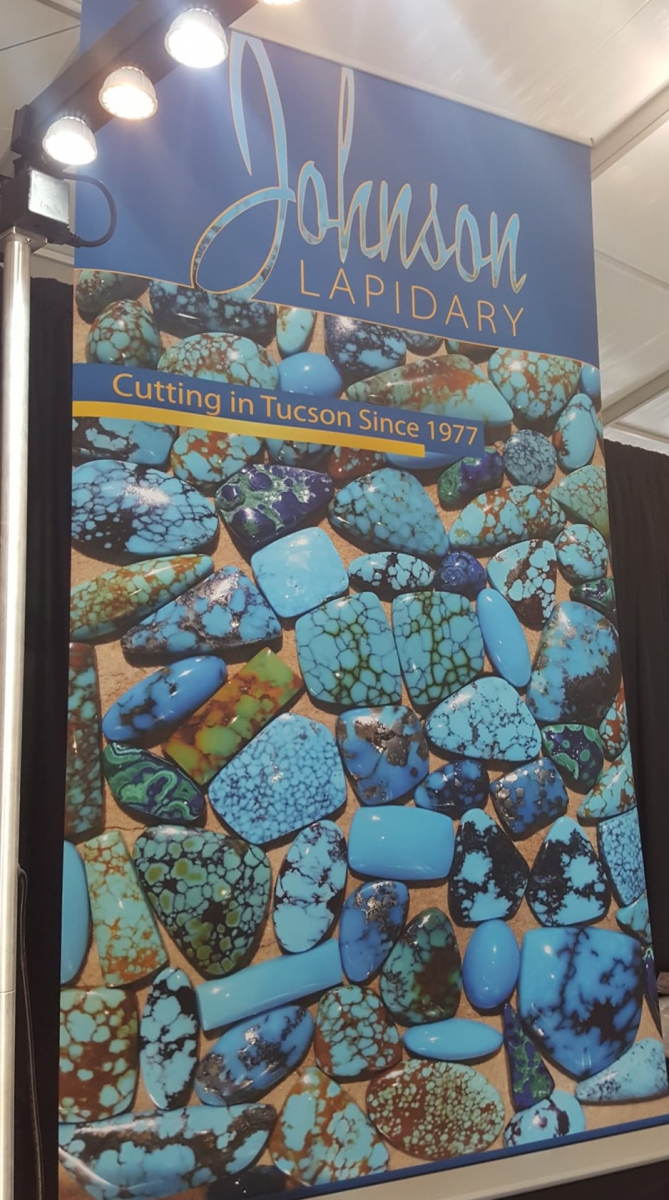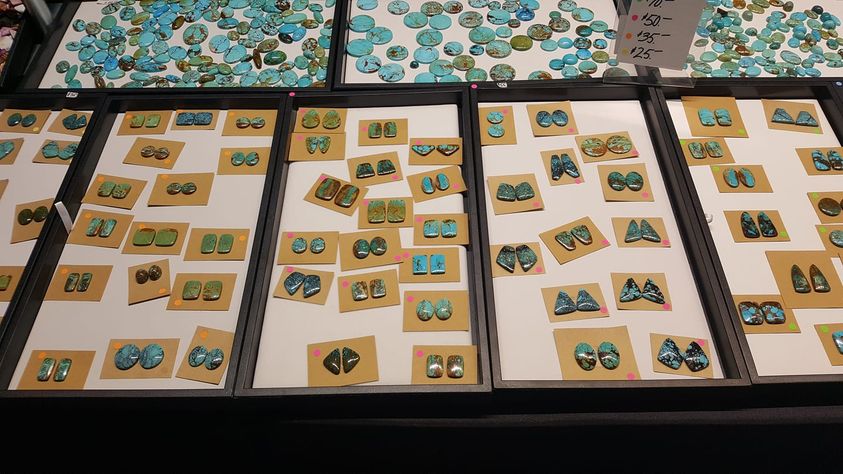 The returns were with Best In Gems . Fortunately Best In Gems is very happy to do exchanges and returns since they know the pairs can get beat up with all the people pawing through the bins. When that finished up I did a quick scan to see if any other vendors needed my attention. There were a lot fewer vendors compared to a normal show. I did check out some strands at one new vendor, but didn't find anything that jumped out at me. I've added them to my list to see what they have next year. It turns out I also looked at the booth they have at the Pueblo show, though I didn't know they were the same at the time. :)
I did a quick stop at the Holidome Intrinsic booth (visit #5) to get a few more of their specials since some of the Gals saw the pictures from the day before and hoped I could pick up a few more. Then my bucket and I got escorted to the Gem Mall Intrinsic booth (visit #6) so I could finish up shopping there. But, first, I wanted some lunch. So I popped out to the food court, had some falafels and got another power boost smoothie. I got one of these the day before too. They were so refreshing and cool! It was between 85-90F while I was in Tucson.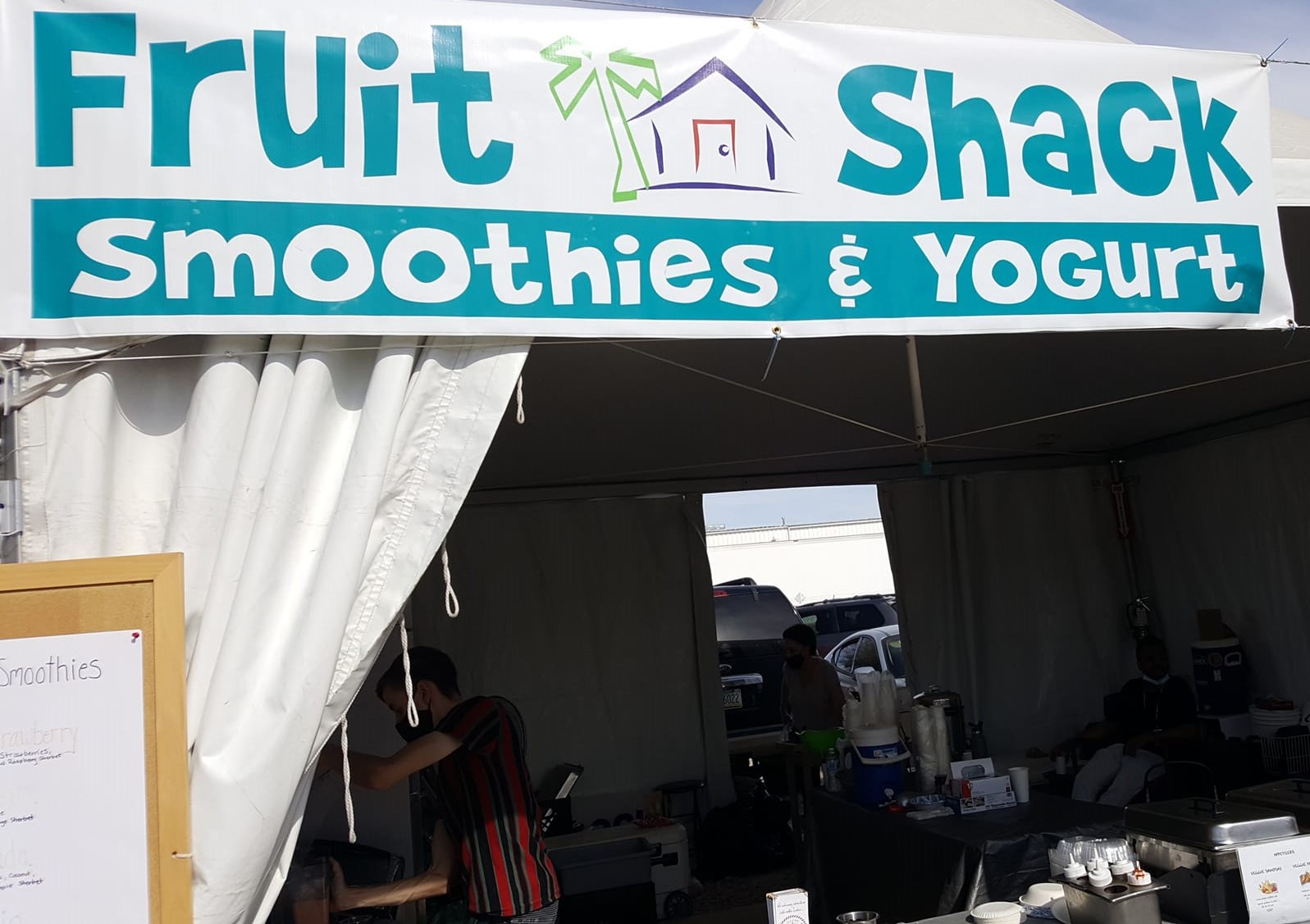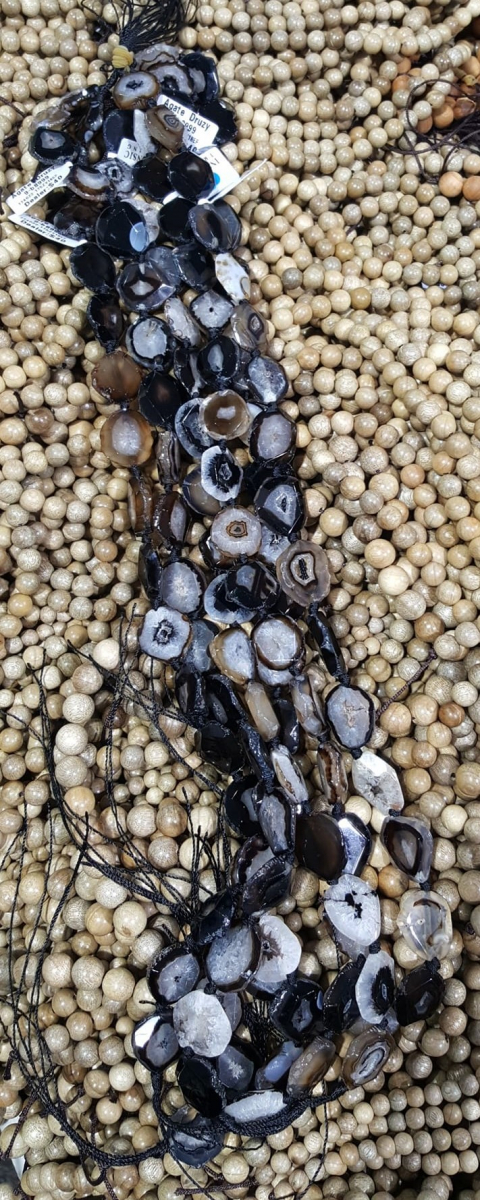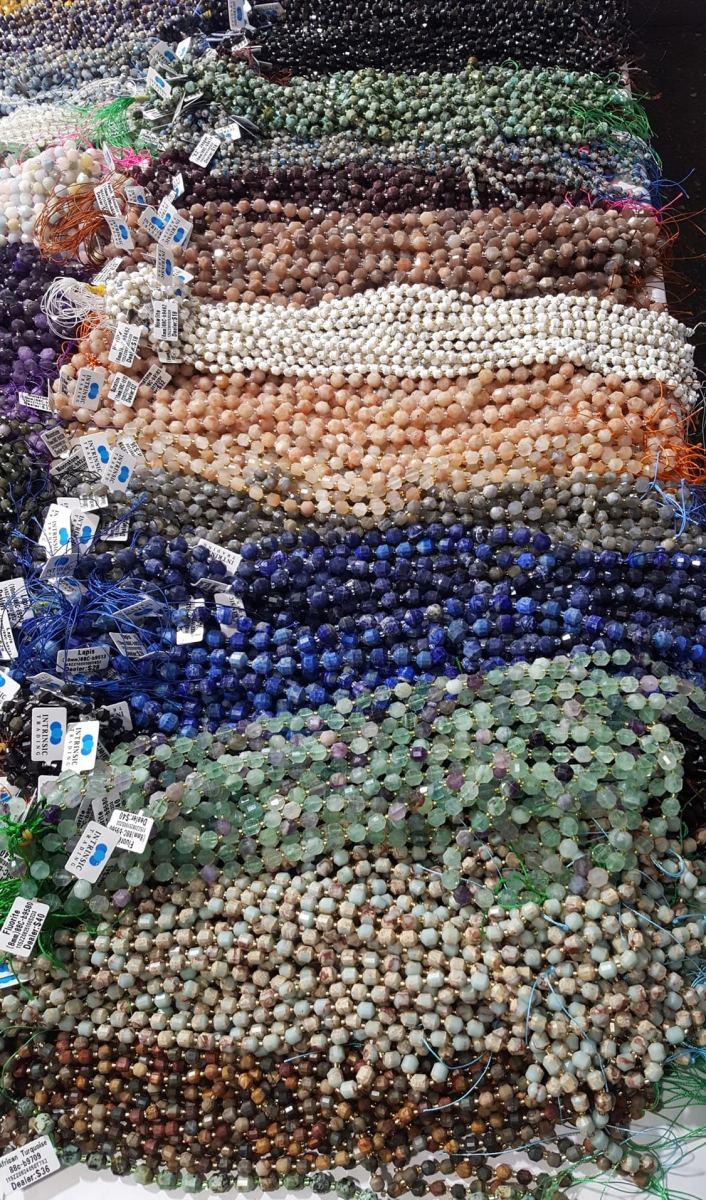 Then I went back into Gem Mall to continue my shopping at Intrinsic (visit #7 in their minds - LOL!). Once I finished shopping for the pairs I started wandering around the Intrinsic booth to see what else I found interesting. I loved these agate slices so I got a strand of those. And, oh my!, I found some step faceted gems in a lantern cut. Step-faceting is my favorite cut for some reason so I just HAD to get a few strands of almost all the stones. The Gals also liked them so I ended up getting quite a few strands of these :)
While Intrinsic tallied up my bill I popped over to the Multicreations to get more bulk Bali beads since quite a few of the Gals were interested in the picture I posted the night before. What I didn't realize, until just then, was that Multicreations was, literally, right across from Intrinsic - LOL! I had blinders on the day before since I went to check out a few other booths after I visited Multicreations. There were enough requests so we met the minimum weight requirement.
When I finished up with Multicreations I back to Intrinsic (I think they counted this as another visit too - LOL! - so we're at visit #8), paid the bill and loaded a LOT of beads into my backpack. As I was leaving I told all the Intrinsic folks that I would see them next year. Scott (the owner) said goodbye, but Katy (my shopping helper) said she was sure I would be back the next day. I said I didn't think so since I had to leave the next day. Heading out to the car I had a heavy load - bulk bali sterling beads and LOTS of gemstones from Intrinsic.
My next stop was World Bead Mine so I could finish shopping and pay my bill for all the strands Jennifer was saving for me and the Gals. I also was going to pick up my yard art. I bought it on Friday, but didn't want to have to hold onto it for 3 days so I told them I would pick it up on Monday. And, as I drove to World Bead Mine I realized that the new Kino site was, literally, within walking distance of Gem Mall / Holidome - LOL! Of course I drove, but I laughed because I hadn't realized how close the 2 shows were this year. I was going to offer to get Starbucks for Jennifer and her hubby, but didn't think to call her before I left. Good thing I didn't because Starbucks was NOT on the way to the Kino site when one is at Gem Mall.
Well the yard art people were CLOSED!!!! I was so pissed! Fortunately for me (and them) I was not leaving on Monday. So I asked Jennifer and her hubby to keep on eye on them (the yard art place was about 3 booths away) and if they showed up before I came back on Tuesday to please pick up my cactus and armadillo. Well I appeased my soul by shopping for more beads. Jennifer showed me soooo many pretty beads. I just LOVED these step-faceted coins! The morganite was just gorgeous! And I'll sprinkle in a few more gemmie pics for your enjoyment. You can see in the labradorite cube picture how dirty my hands are. Unfortunately for Jennifer all the Kino booths were outside this year and it was very windy and dusty so all her gems and displays got quite dirty. And the final picture is Jennifer and me in her booth, about an hour after the show closed, when I finally finished shopping.